Numerous routes in Sardinia have been conquered by Czech pull-up record holder Honza Kareš and his friends from the Jan Kareš Climbing Team. We must thank Honza Hrnčíř for introducing us to Sardinia as an area with enormous potential that is yet to be overrun with crowds.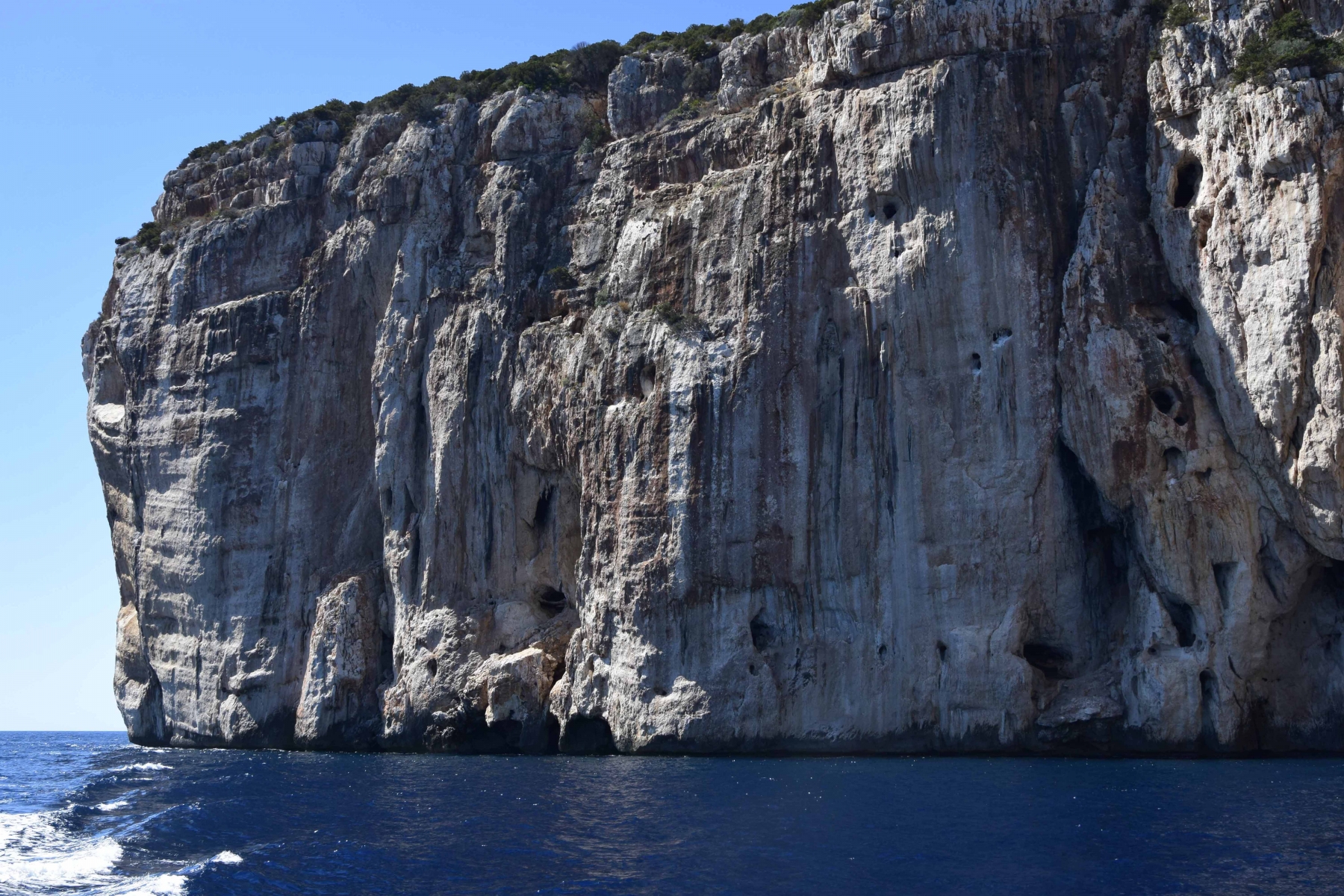 Alghero - multipitch climbing over grotta di nettuno cave. Acces only from the boat.
From north to south, east to west
The entire island is riddled with climbing areas. Just a few years ago Sardinia's climbing potential lay untapped, but recently the number of routes has been growing rapidly. The great thing is the wide diversity of terrain – on Sardinia you can climb on granite or limestone, in cool canyons, in the sunshine along bays lashed by the sea, or in the interior with its beautiful natural scenery.
You'll find the best granite climbing on the southwest promontory of Capo Pecora and its surroundings. The routes here are more traditional than on the limestone, so it's good to pack a set of friends and nuts.
There's excellent limestone climbing in the island's interior in the Isili area of the Cagliari Province. It's popular for its wide array of overhangs in a total of 13 sectors. Not far from here is another popular climbing area called Domusnovas, the largest climbing area in the south of the island. With 33 sectors full of routes of varying difficulty it is ideal for both beginners and competition climbers. The easy routes here reach heights of up to 35 meters. Top climbers will have a blast with the overhangs, which include the notorious Marina Superstar rated 9a+/9b. One of the few people to send this route is Adam Ondra.
Another climbing paradise is the interior area near the mountain town of Ulassai. In summer you will enjoy the altitude here of over 800 m and the fact that there's plenty of climbing in shaded canyons. The difficulty of routes starts at a friendly 4c, sure to be appreciated by all climbing novices, and ends in a French grade eight.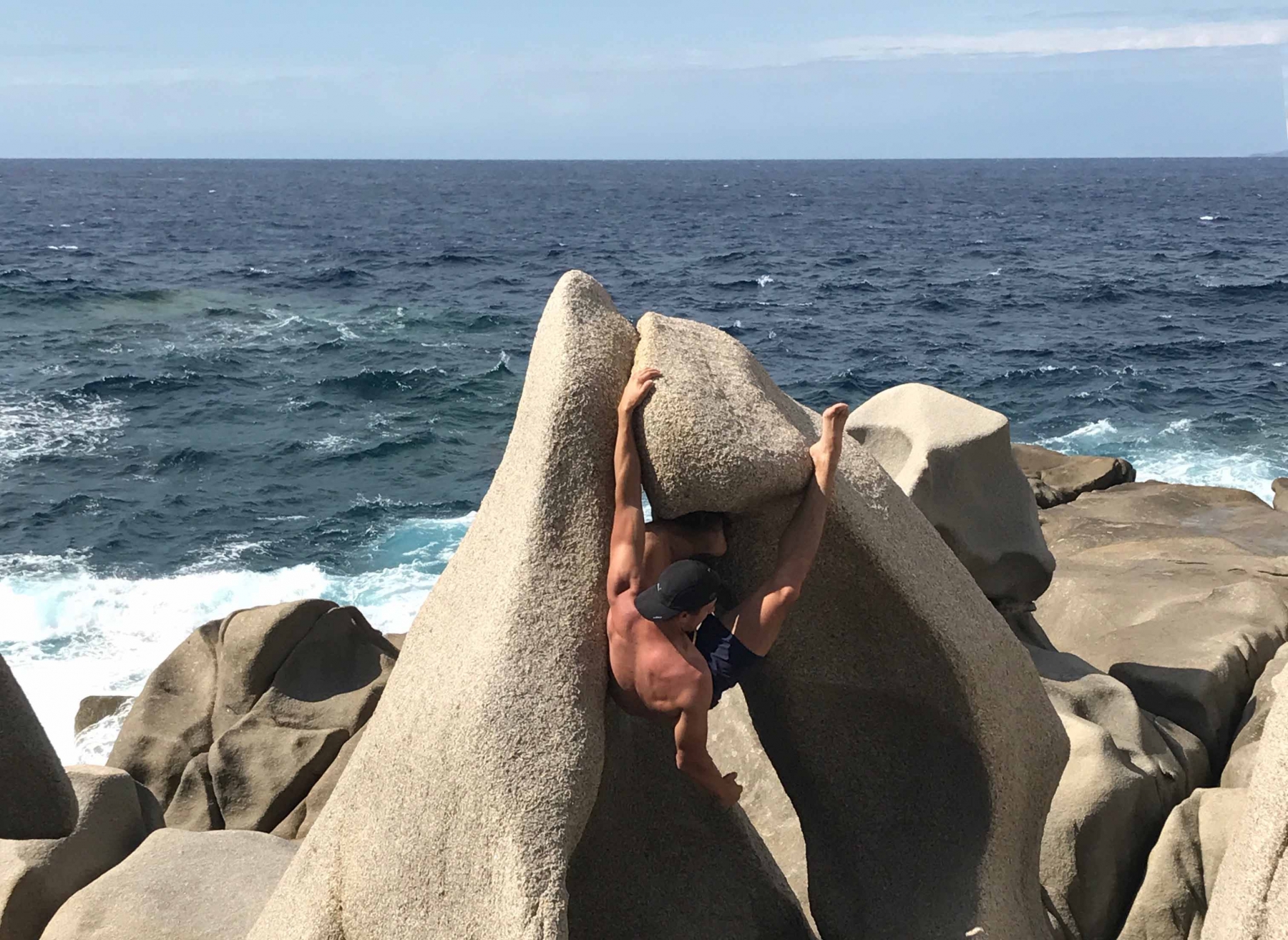 Honza Hrnčíř bouldering in the north of Sardinia Capo Testa.
East Sardinia: Perfect shorter routes with bolts close to each other in solid limestone
The most interesting part of the island for sport climbing is certainly the east and the coast from Cala Gonnone to the south in the province of Nuoro. Here you'll find shorter free climbing and multi-pitch routes with amazing views. If you are looking for the heartbeat of Sardinia, the east is the place for you. Until recently, the unspoiled mountainous countryside was the scourge of the travelers. Now you can find many routes that are unique in terms of climbing difficulty, views and accessibility, spread over 45 sectors. Here you'll also find what may be the most interesting route on the island, multi-pitch Hotel Supramonte rated 8b with a length of 370 m. It is located in the narrowest part of the Gola Su Gorropu limestone canyon. Free sport routes on limestone in Cala Luna Bay range in difficulty from 5c to 8b+ and there are also unforgettable easy routes up the Pedra Longa or Cala Goloritze towers.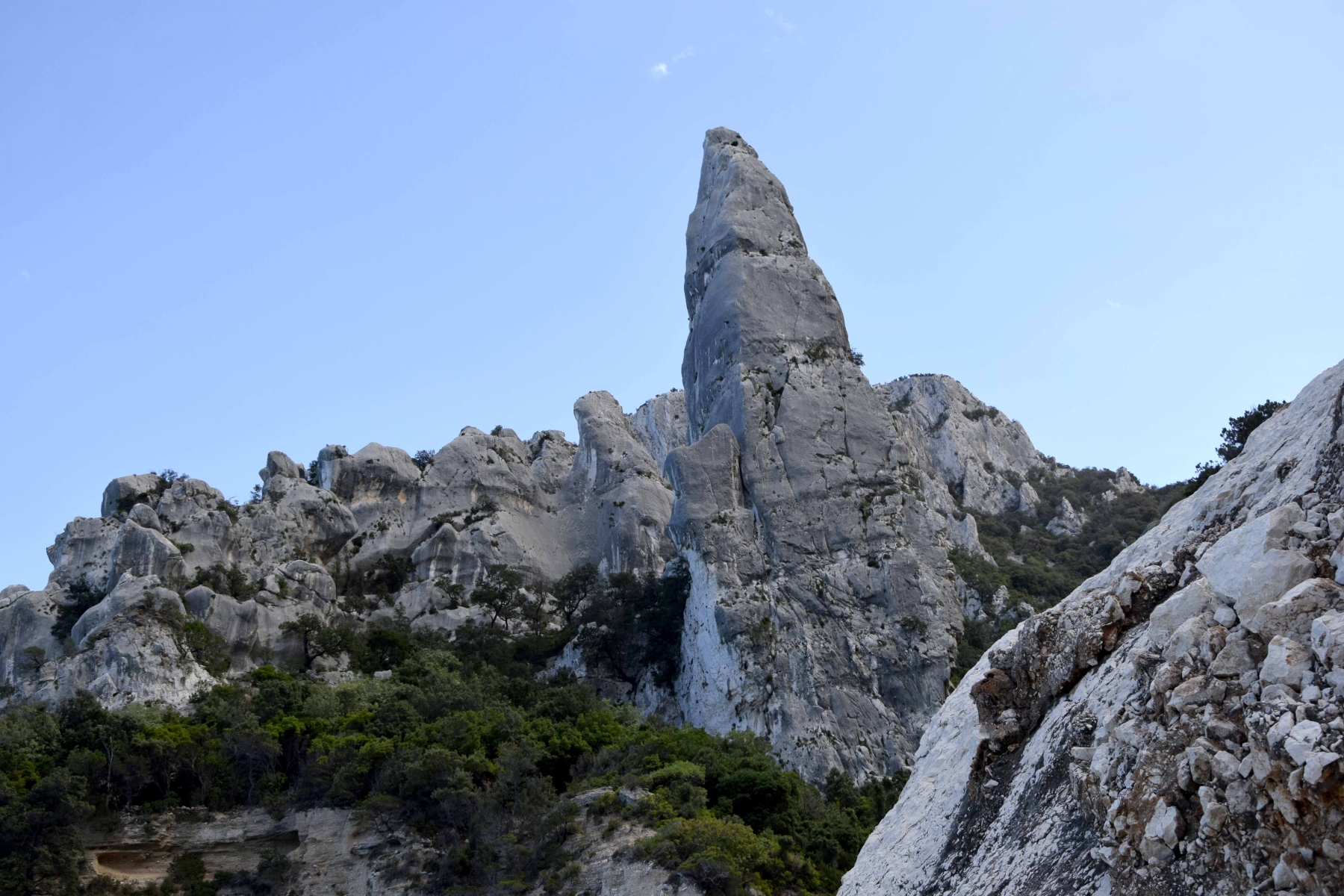 Cala Goloritze beach. with a view to Agugliu needle.
Routes set by Karešák
A great number of routes in eastern Sardinia are the work of world record holder in pull-ups Honza Kareš. Here he has selected, cleaned and drilled roughly 350 routes from 5c to 8c, especially around the small mountain town of Baunei. "When I first came to Sardinia, there were just a few routes on coastal crags. Over the past 13 years Sardinia has become my second home and I come here to set bolts several times a year. We've set some truly unique routes here. Certainly worth mentioning is Boreas (the god of wind) – multi-pitch with an overhang above the cave under Punta Giradili with a grade of 7c+ and a view of the sea. Then there's Megalodon, a 7b+ multi-pitch in the Dinopark area or the Niké project with a difficulty of at least 8b. I would dare say that it's one of the most difficult and most interesting routes in all of Sardinia," says Honza.
There are also plenty of climbs in Sardinia for beginners and families. Our easiest routes are very popular. For example, I would certainly recommend Slávova tower rated 6a+ in the Sistema Solare area. Another route certainly worth mentioning in the newest Red Chilli area is Moruga, rated 7a+ and overlooking Pedra Longa. Also recommended are numerous routes in the newly created area of Il Capo.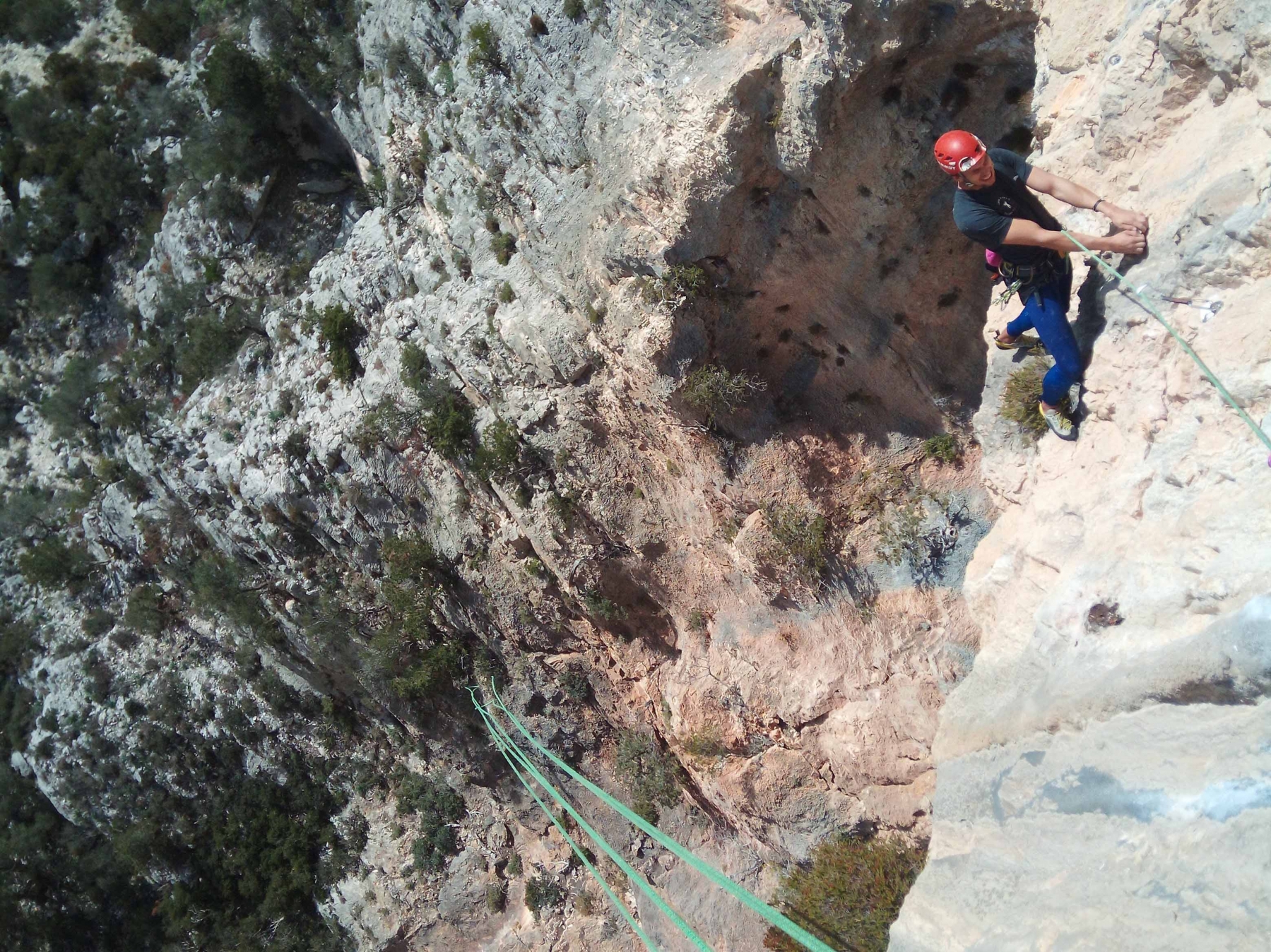 Multipitch Boreas, 7c+ on Punta Giradili in Baunei area.
The season never ends
Sardinia is ideal for climbing year-round. In the summer you can climb in canyons and shaded sectors, or go for a swim right after climbing on the beach. In the winter it is usually fairly warm, so you can climb routes where you would normally broil yourself in the heat of summer. On the entire island you can find over two thousand free sport routes on limestone and granite. Most routes on limestone are free sport with bolts. The climbs on granite tend to be traditional using friends.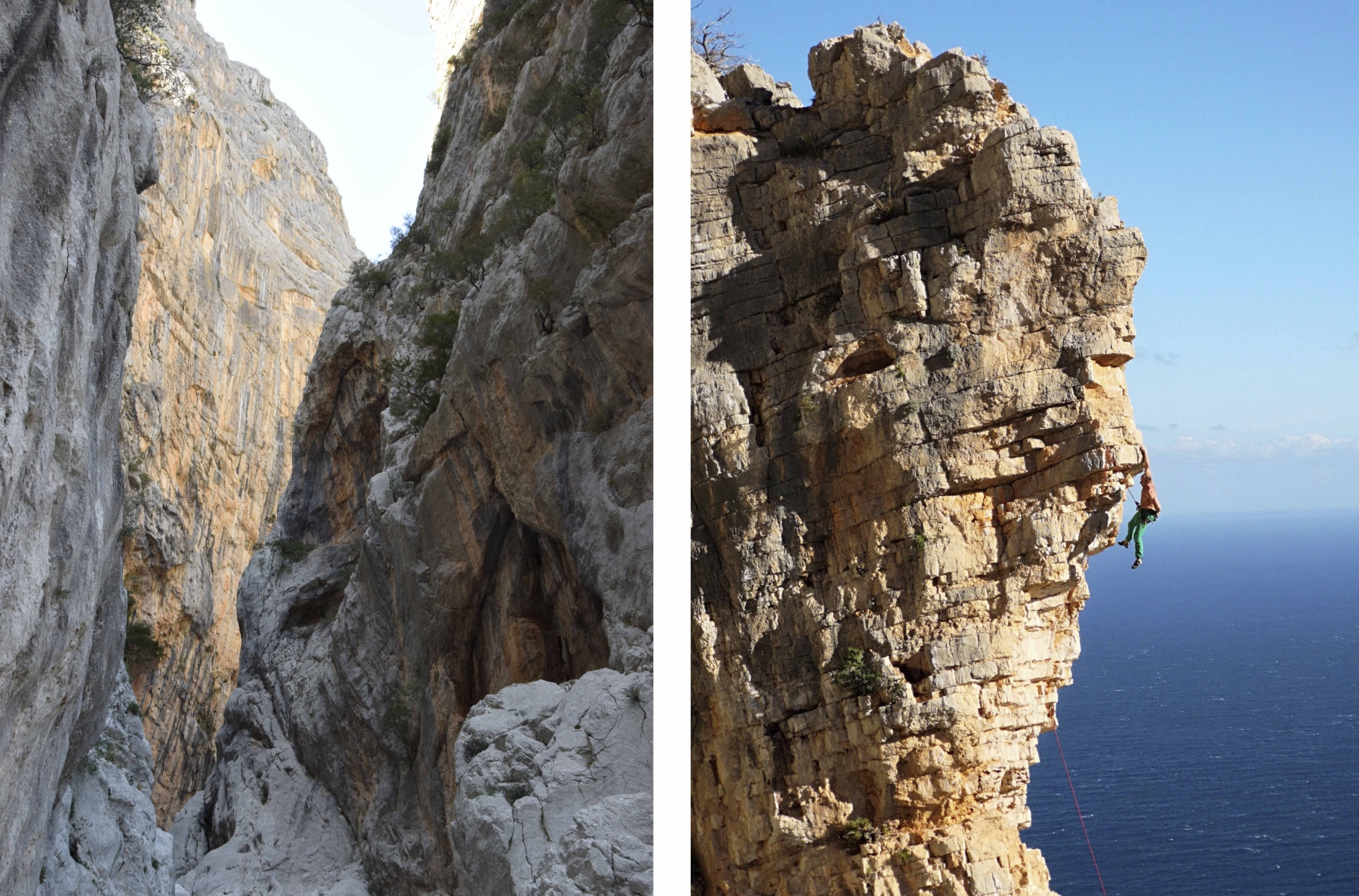 On the left canyon Valle di Gorropa and the best known route to the Sardinia - Hotel Supramonte. On the right, Honza Kareš in the Dancing, 7a in the newly opened area of Il Capo
Travel tips
To enjoy the best of everything that Sardinia has to offer climbers, you should drive. From the CR go to the Italian port of Livorna , then take a ferry to Golfo Aranci near the city of Olbia and then drive south. It's good to find accommodation around the towns of Baunei, Arbatax, Tortoli or Santa Maria Navaresse . For example, a comfortable apartment recommended by Honza Kareš is Appartementi Supramonte in Santa Maria Navarrese (Via Supramonte, 08040 S. Maria Navarrese). To make reservations call Marco (+393288580536). Since you don't need to pack that much climbing gear for most areas you can also fly to Sardinia. The minimum gear for most routes is a 70 m rope and 15-20 quickdraws. In most towns you can find good food and excellent Italian coffee. Just watch out for shorter opening hours and holidays.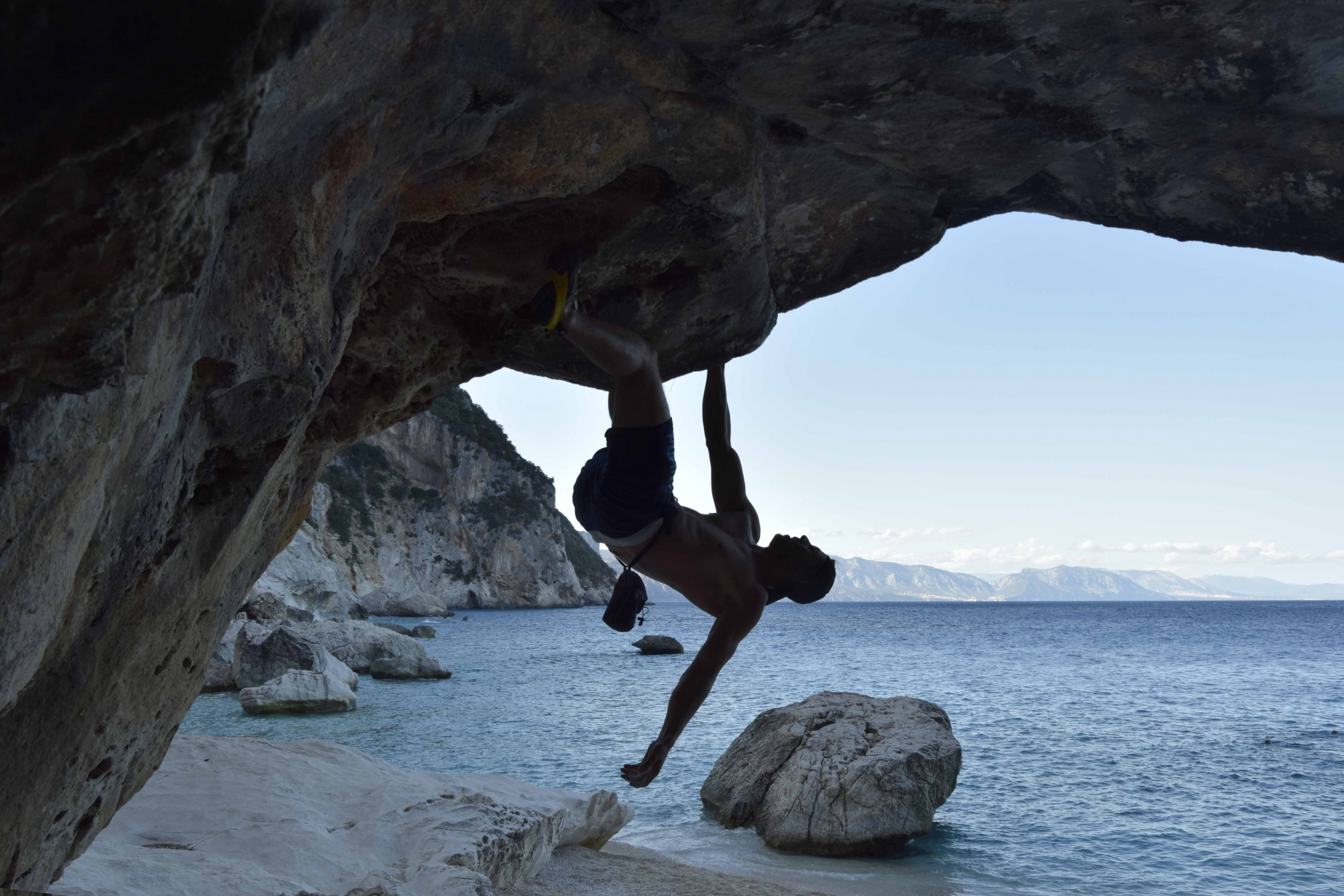 Cala Goloritze beach
An island for everyone
Sardinia is a climber's paradise that few people know about. There are plenty of fantastic routes on good rock with such a diverse range that there's something for everyone. There are overhangs, jugs and even dripstone climbing typical of the best Mediterranean limestone. There are climbs of all difficulties as well as sport and multi-pitch routes.
Once you've worn out the skin on all your fingers, then take in the other things Sardinia has to offer. I highly recommend trying Ichnusa beer, the local Pecorino Sardo cheese and Vermentino wine. I've already mentioned the Italian coffee, which I'm sure you will discover yourself the first time you have breakfast.
In addition to Honza Kareš, Sardinia has another trailblazing climbing enthusiast, Maurizio Oviglia. Maurizio has set over one thousand routes all over the island. The two have recently joined forces and are now working on a new guide for the Baunei area on the eastern part of the island.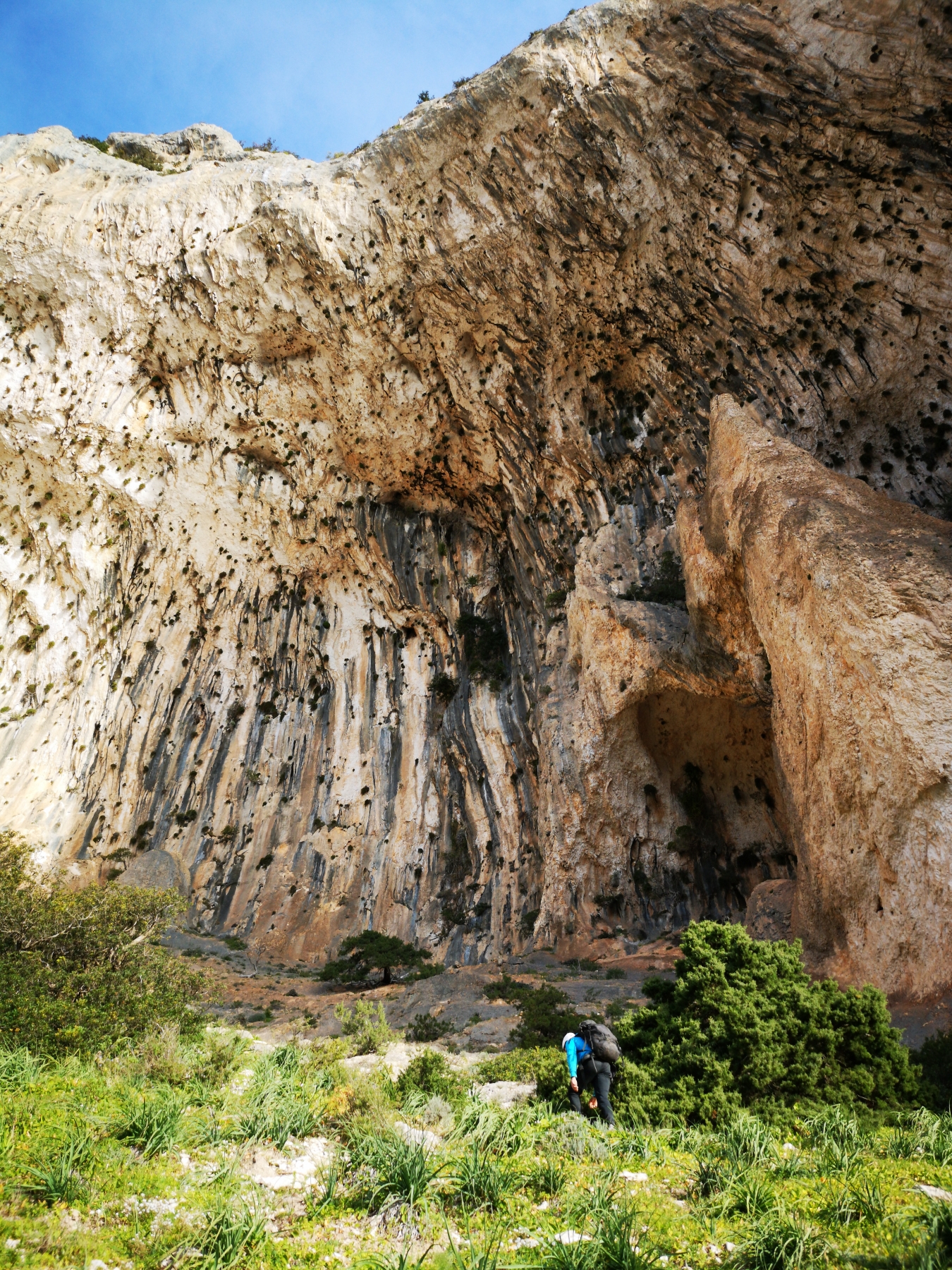 Punta Giradilli. Project Niké around 8b+.
Honza Kareš and Honza Hrnčíř are the driving force behind the Jan Kareš Climbing Team. Tireless builder and excellent climber Karešák can turn the least likely candidates into climbers. Together with Hrnec, the team organizer, they are responsible for many unique climbing routes in Sardinia.
You can find a complete list of routes set by the Jan Kares Climbing Team at www.jankaresclimbingteam.com and at www.27crags.com.