Close your eyes and imagine a granite paradise. Now open them again, shake off the image of Yosemite and try again. If you see sheer granite walls rising right from the sea, sheep grazing the green hillsides and sun that never sets you are almost there. Now look at the base of those walls, at the huge blocks lining the quiet white sand beaches, and into the short deep valleys. There you will find a real treasure.
I will try to add more reality to that imaginary picture. You already know that we are in Lofoten. I truly think it is one of the most beautiful places on Earth. And it is overflowing with climbing opportunities. Now, let me describe my top ten standards for a perfect summer crag with regard to what Lofoten islands offer: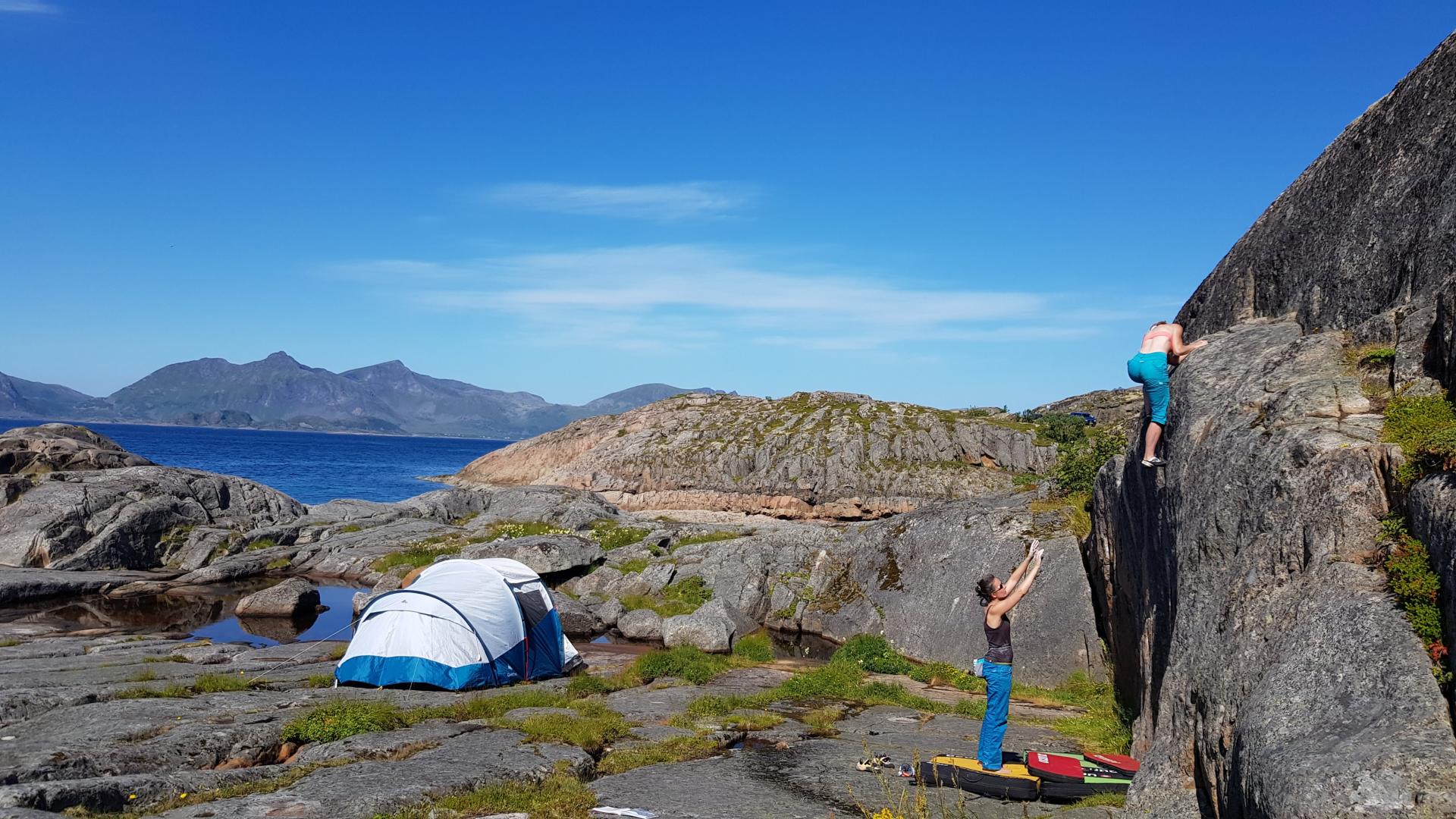 Scenery
I just love places, where I can feel awed by mountains and the sea, where their contrast enhances the beauty of both. After all you also need to build your Instagram on some nice pictures, right? Lofoten are a synonym for scenery. So that's the first standard checked.
Rock quality
This is something that is hard to spot on Instagram pictures. I visited many beautiful places with rather shitty rock. If you mean to do some serious climbing, you don't want to take 3 rest days after 2 hours of bouldering because the rock is just too sharp. You don´t want to be concerned for your health and looks because of the looseness of the rock either. So what I ask from good rock can be coincidentally described with the same words as what I ask from a good relationship – solidity and smoothness. The Lofoten rock can be pretty rough at places like Flagstatpollen, but mostly it's cultured by the sea and quite skin friendly. I have come back with the same handsome face and a mouth full of teeth and shining smile I have brought there with me, if only a bit unshaved, so I can vouchsafe for the solidity as well.
Weather
The world is full of places where there is a great solid and smooth rock. Like in the equatorial Africa and jungles of Amazonia. But every sane climber who is after a good climbing, not just a Red Bull marketing adventure, looks critically at the latitude of the location with correlation to season. Basic summer rule is to go north or to the other side of the globe where it's not summer. The base for this article is my own experience from two visits of Lofoten, 3 years apart – two weeks and three weeks. During those 5 weeks, there were just 6 days we did not climb because of weather - 4 because of rain, 2 because we deemed it too hot for bouldering. The rest was just ideal. Ever present wind keeps the rock dry and humidity in check. Latitude and location provide a decent chance for escaping the scorching summer heat waves of recent years in Europe caused by ignored global warming. It's just one of a few places where you can boulder with your bouldering beanie on not just for style. Long sleeves are quite comfy during most sessions as well. But weather, as it's its habit, does as it pleases it these days and I'm one pretty lucky bastard when it comes to weather during my rock trips. So don't blame me if it ruins your whole trip, it just means I'm somewhere else.
Peace & Security
By this I don't necessarily mean an absence of war conflict in the region. If you hate crowds, as I do, best not share this article with too many people, because in Lofoten there are still more places where you'll be bouldering alone than where you meet other climbers. Sadly to say, it's not the same with tourists as I have recognized a significant increase in urban type tourist since my first visit. But if you throw away every major bedecker and ask locals, where they go for a hike, you should find peace of mind and solitude all right. You can also climb in peace and not worry about your car and all the stuff you left there. At Lofoten you still worry more about the right beta and less about whether you have locked your car.
Variability
This standard is ever rising in my priorities in the past few years. I understand it can be rather a con than a pro for some people, as they need to get accustomed to the style before they can hit their projects. But if you like to play around rather then push your limits, Lofoten are an ideal playground as the style varies greatly from smooth technical slabs, roofs with jugs, wild dynos, proud âretes and crimpy test pieces. Variety also means, that your crusher girlfriend can project her 8As while you still have plenty of 6As to fail at around. Or for some couples, as was our case, the other way around.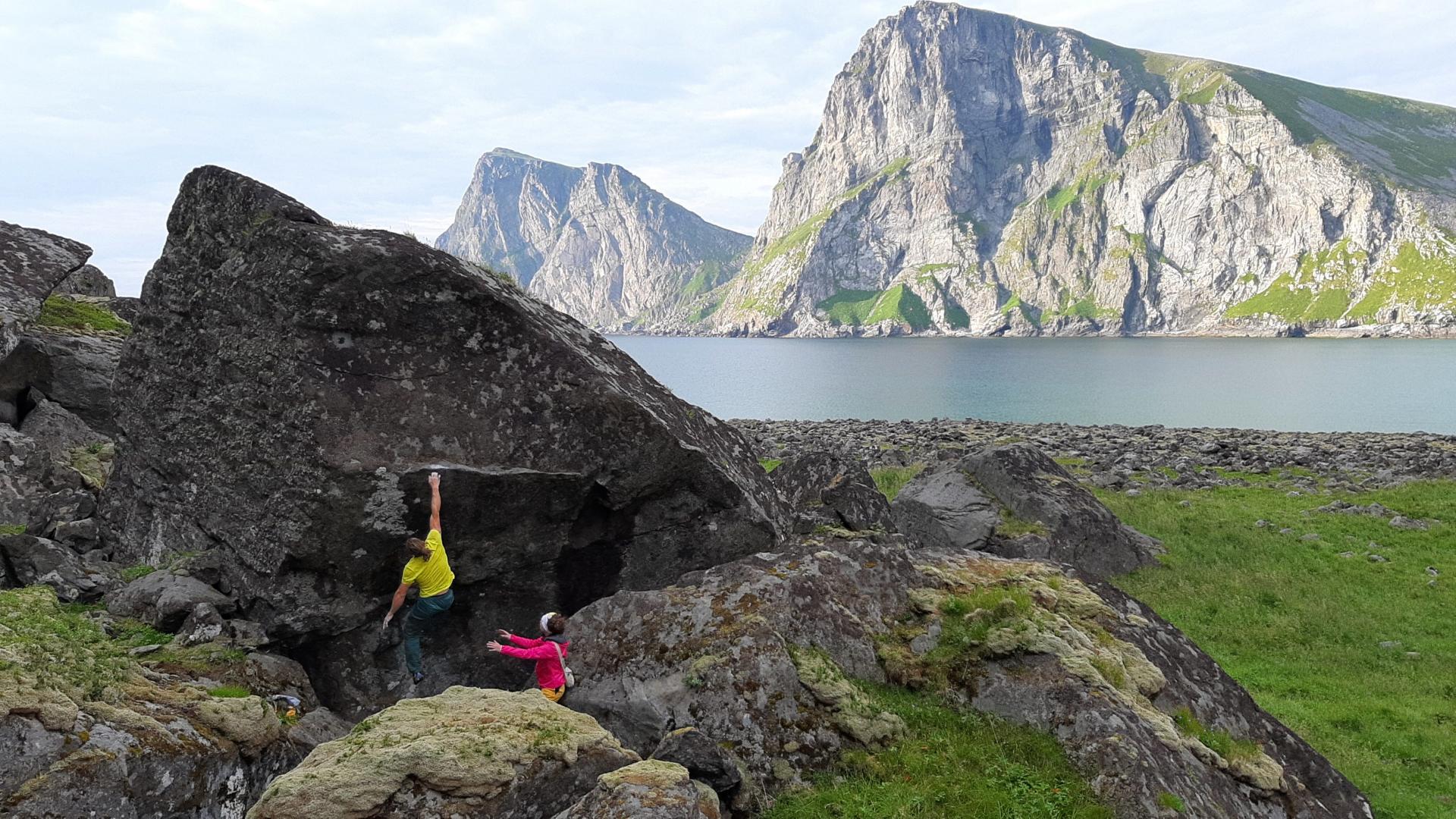 Possibilities
Four years back Lofoten got a great comprehensive photo guidebook for bouldering from Jonas Paulsson called Lofoten Bouldering. It features great many nice pictures and covers the most developed areas in Lofoten with more than 700 boulder problems. While I have been in most of the areas from the guidebook during my two summer visits, I have tried only a fraction of boulders there but I have seen a great potential for more. What I kept an eye for were the harder lines as there are not too many of those established yet. There certainly are plenty of hidden gems just waiting for their miners to come and make new classics of them. For this enterprise the best crag would be Kvalvika, Storura, Trolldalen or one of many bays around Svolvær. This goes for the 8th grade at least, in 7th and down you can get into FA's frenzy almost everywhere on the islands.
Accessibility
Overall accessibility is great in the whole Scandinavia and Lofoten, being so small, are even above average. "The every man's right" includes even women now so you do not have to worry about being shot at if trespassing. As I understand it there is even very little trespassing possible as you can move freely around the countryside and camp anywhere it's not forbidden by a sign and if you are civil enough you can stay a night on private property. Just you follow some basic rules of courtesy. If your pilgrim soul likes the vagabond life bound with nature, with cold baths in lakes or seas and pitching your tent in the remote and romantic locations, Lofoten are a place of your dreams. Most crags are very close to the parking spots and only a few like Kvalvika or Bunes demand more serious hiking or logistics.
Services
Expensive but great to put it shortly. Both times I have been to Lofoten, I was there with my van. As you can load plenty of stuff into the van, we did so and therefore were not dependent on many services there like a car and crash pad rental, accommodation, pharmacy or even food and alcohol. All these are sometimes 2 or 3 times (10 times when it comes to alcohol) more expensive than we are used to. But again for vagabonds and wanderers it's quite ok. Diesel fuel costs around 1.60 €/l, drinking water you can get at most fuel stations, plus there are a lot of lakes in Lofoten, that serve as reservoirs for drinking water so just ask locals if in need of filling up your water canisters. The cell phone network coverage is excellent with the majority of it being 4G. Norway is not an EU country but the same roaming rules apply as if it was. So Youtubers be at peace. My girlfriend had to work remotely most of the time and was able to do so without any hindrance except for the beauty of her surroundings. Larger settlements – they even call them cities optimistically – are not too far apart and there is all your urban soul may want or need, be it a shopping mall, coffee, bar or a hospital.
Affordability
From my experience, you spend as much as you wish to spend anywhere. But as I have declared above, "the north" is not cheap and it's quite far. But it all depends on your comfort standards. You can reduce your stay there to fuel costs, ferry and road toll in extreme if you fish and bring plenty of pasta and rice with you. If you do not have time or patience to drive up there all the way from your home, you can fly to Bodø on the mainland and take a ferry. You can even get straight to Svolvær or Leknes. My friends flew to Bodø from Vienna for approximately 350 €. But since Lofoten are so beautiful in so many aspects, I count every € well spent, therefore the affordability is almost the last point for me.
Social life
If you go trad climbing to Lofoten, you will probably have a lot of contact with other climbers, mainly if you stay around Heningsvær under Presten or Gandalf. But if you go only for bouldering, as we did, do not expect crowds of new friends. I like solitude when on a vacation and there I did not have to seek it. If you are like minded, do not hesitate to plan the trip, if you like the social contact with other climbers, make sure to stop at the climber's cafe in Heningsvær. The shy can have a great burger there at least.

What to do on which of the islands
If you are already planning a trip based on my ten points, I can provide you with an itinerary for your trip. If you take a ferry to Moskenes and therefore start at the southernmost island of Mosenesoy, make sure to take a hike to Kvalvika beach with a crashpad and climbing shoes. It is one of the most scenic bouldering areas far and wide. There are also many popular hikes around Reine and Å.
The next island is called Flagstadoy and it is home for two great areas – Storura with much potential for many more boulders and Flagstadpollen with the famous Nalle Hukkataival's 8B called Rough Gem. While on this island it is worth to spend a rest day in the oldest fishing village called Nusfjord or a designer cafe and glass art gallery at Glasshytta Vikten.
Next island, Vestvagoy is larger than the previous two and has many nice small crags. The chief and most developed among them is Uttakleiv in the north. Not far is also the only (as far as I know) sport climbing crag called Eggum. The rest of the bouldering on Vestvagoy consists of small crags but with very iconic boulders. In the north, near the village Sand is 7C called the Outlook, named so because it climbs to the lighthouse built on top of the boulder. In the south there is probably the most photogenic ârete in Lofoten – the King Fisher 7A. If you are into the Viking stuff, there is a Viking museum in the center of the island called Lofotr, which is also well worth the visit.
The smallest Lofoten island is Gimsoy. Bouldering is not very developed here, you´ll find only a few boulders, but some, like the Finnish Line 6B, are quite nice and well worth the visit. I would also recommend hiking to the solitary mountain called Hoven that dominates the north of the island.
The most developed island when it comes to climbing is surely the northmost Austvågoy. The coasts around Svolvær and Heningsvær are lined with many great boulders and because of the fact, that most of the trad climbing crags are also located here, boulders here get much more attention than those on the other islands. Presten boulders and Stem Bastensen are a must visit while on the way to Heningsvær and Kallestranda and other "strandas" along the way to Svolvær have quite a lot of nice boulders as well. This is also an island where we did most of the hiking as the mountains get even more dramatic here and are higher than on the other islands which makes for even more spectacular views.
To wrap it up, bouldering in Lofoten is still in diapers but well worth the adventure for many more reasons than bouldering itself. If you go, go with great respect for nature and the locals who live there because both are what makes the atmosphere of that beautiful place so unique. See you there maybe, because I was not there the last time for sure!
PHOTOS: Climbing Bus, Lucie Šancová