As a preschooler she kept coming home with her hands bleeding from climbing around the playground all day. Her parents eventually decided that something had to be done about this, and so they took her to the local climbing gym for her 5th birthday. From then on, climbing was her love.
Allison Vest was born in the USA but moved to Canada with her family and spent most of her childhood there in Canadian Rockies. She started competing in climbing at age 9 and joined the Canadian National Team as a teenager. Her list of accomplishments includes winning the title of Canadian National Champion in both, bouldering and lead. She has also become the first Canadian woman to climb 8B/V13 boulder, when she sent The Terminator in Squamish.
Climbing roommates
Allison is currently living in Salt Lake City, Utah, where she is training along with the American National Team. Her roommate is American Olympic climber Kyra Condie. The two of them became friends at the World Championship in Paris in 2016, where they spent a day together, running around the city and finding out how much they had in common. "I feel like we can talk about anything – climbing, boys, future plans, the state of the world," Allison says, adding that Kyra is the closest friend she has ever had.
Allison and Kyra started a joint account on TikTok (@climbingroommates). Their posts include casually performed one-arm pullups, funny training routines where they support each other (often in physical way and not just by cheering), or fragments of domestic life with two cats. One of their popular posts is ironically showing what it does and what it certainly doesn´t feel like to keep receiving unsolicited d*ck pics. Facing sexual harassment or inappropriate comments on one´s own physical appearance is unfortunately still a part of being a successful female athlete. Allison and Kyra found an original way to respond.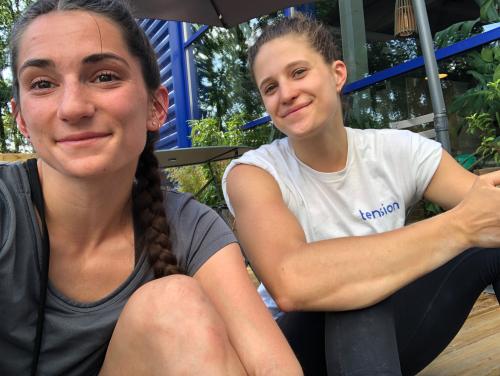 Pro climber, comic talent, poet
Humor is an important part of Allison´s personal Instagram profile as well. You can find there as well as climbing on top level, poems written in free verse which contain some deeper thoughts and finally the beloved funny posts in which Allison attempts to imitate other athletes from different sports in their breathtaking performance such as rope jumping or incredible flexibility. She says that she didn´t just wake up with the idea of being funny one day. It was more of a natural progression – she posted something self-ironic and got a lot of positive responses. "I realized that people really appreciated it when I was authentic to myself on social media, so I decided to start sharing that more."
Her main discipline is bouldering, but she likes lead climbing as well. Speaking of the Olympic format, she admits that speed is not her favorite and she´ll wait for the next games in 2024, where speed
should be separated from lead and boulder. But this time, she is very excited for Kyra. "I think she´s going to do so well!" she says.
Allison also genuinely enjoys training, which is after all always the main road to progress. Big moves are her favorite thanks to her impressive ape index (+18 cm/7 inches) and she´s usually doing well on small crimps, because finger strength is what she´s been focusing on for a long time. Pinches and very steep profiles are what she considers her weakness.
She started climbing in Nitros two months ago: "I love them. They honestly fit better than any other shoes I've had on. There is almost no dead space in them, and they make me feel like I really have control of my feet." For outdoor bouldering she uses Dominator crash pad.