Paddy Dominator
Crash pad with our unrivalled FTS Absorption Block®, suitable for highballs
Paddy Dominator is crash pad for the most demanding boulderers. It´s also suitable for highballs thanks to our patented FTS Absorption Block® inner padding that improves absorption of the energy of fall. Design of the absorption block ensures perfectly efficient absorption even et the edges of the pad. Another advantage of this solution is the fact that it decreased the weight of the pad about 20 %. It offers two different ways of opening. Its carrying is more comfortable thanks to the shoulder straps made of WeBee padding. It´s always delivered with integral carpet for cleaning the climbing shoes.
FTS Absorption Block
Duralumin hook buckles
2 locking Velcro straps
Carpet 50×30 cm
Breathable WeBee carrying straps
2 rubber handles
Multipurpose side loops
Specifications:
Construction and packing
2-pieces, two-way oppening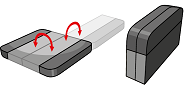 Carrying system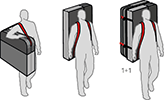 Technology:

Patented design of the absorption block ensures efficient absorption even at the edges of the pad enabling adjustment of the absorption effect.
Read more at the article.