Dominator FTS
The crashpad with the highest absorption effect in the world
The Dominator is designed to absorb falls when highballing. It is filled with the thickest FTS absorption block 145 mm.
FTS (foam tube suspension) ABSORPTIONBLOCK
Aluminium hook buckles
Integrated carpet
2 locking Velcro straps
Padded shoulder straps
Padded waist belt
1+1 system to carry 2 pads together
Specifications:
Carrying system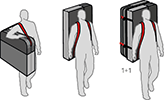 Construction and packing
2-pieces, two-way oppening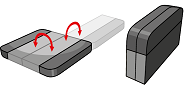 Technology:

Patented design of the absorption block ensures efficient absorption even at the edges of the pad enabling adjustment of the absorption effect.
Read more at the article.