How to get there
Definitely by plane! There are plenty of routes to get there. You can take a plane to the capital of Jordan, Amman, or to Eilat in neighboring Israel, or straight to Aqaba, the coastal city in Jordan near Wadi Rum. If you opt for Amman, it's a good idea to rent a car for the trip to Wadi Rum and visit Petra on the way (I'd have expected that one of the Seven Wonders of the World, protected by UNESCO, would've had less litter and mess everywhere, but the number of street vendors was roughly the same as on Charles Bridge in Prague) and have a dip in the Dead Sea. If you come to Eilat, the best way to get to Jordan is to take a taxi to the Israeli–Jordan border. However, you are only allowed to cross on foot. Once you've passed through 10 checkpoints with border officers inside, got 3 tickets, 5 stamps, 4 stickers and went past a couple of dudes with machine guns on their shoulders, you've reached Jordan, Yay! Then catch a cab again and go either to Aqaba several kilometers away from the border, where you can buy supplies for the trip or go straight to Wadi, 40 km away. If you fly directly to Aqaba, the itinerary is then the same as in the previous case, except for the Eilat–Aqaba trip.
Upon arrival
Wadi Rum is a village situated right in the center of the climbing area, slightly reminiscent of Chamonix because of its position inside a valley, only instead of Mont Blanc there is the Jebel Rum massif and instead of the Aiguille Rouge ridge, there is the Nassrani massif.
Also, unlike in Chamonix, transport is provided by camels instead of buses, and there are only two rainy days a year. Since you want to spend some solid climbing time here, you should find some accommodation. Wadi is visited by a relatively large number of tourists, so there should be plenty of options to choose from. Most are so called desert suites, which are usually small houses made of concrete with carpet inside, a couple of mats to sleep on, a little kitchen and a hole in the floor, aka a toilet. Approach to the base of the route is done on foot. If you want to try a different climbing area, definitely go for the Barrah canyon, but you have to get there by jeep.  It is worth spending a couple of days there, because the memory of nights in the desert with a sky full of stars is going to stick with you long after you return. But beware, there is no water in Barrah, so don't forget to ask the guys who'll drive there to lend you some canisters filled with water as well. Also, don't forget to mention you don't want canisters with leftover gasoline in them (speaking from personal experience). Although gasoline is without a doubt a very useful liquid, it's better to mix water with a vitamin tablet instead.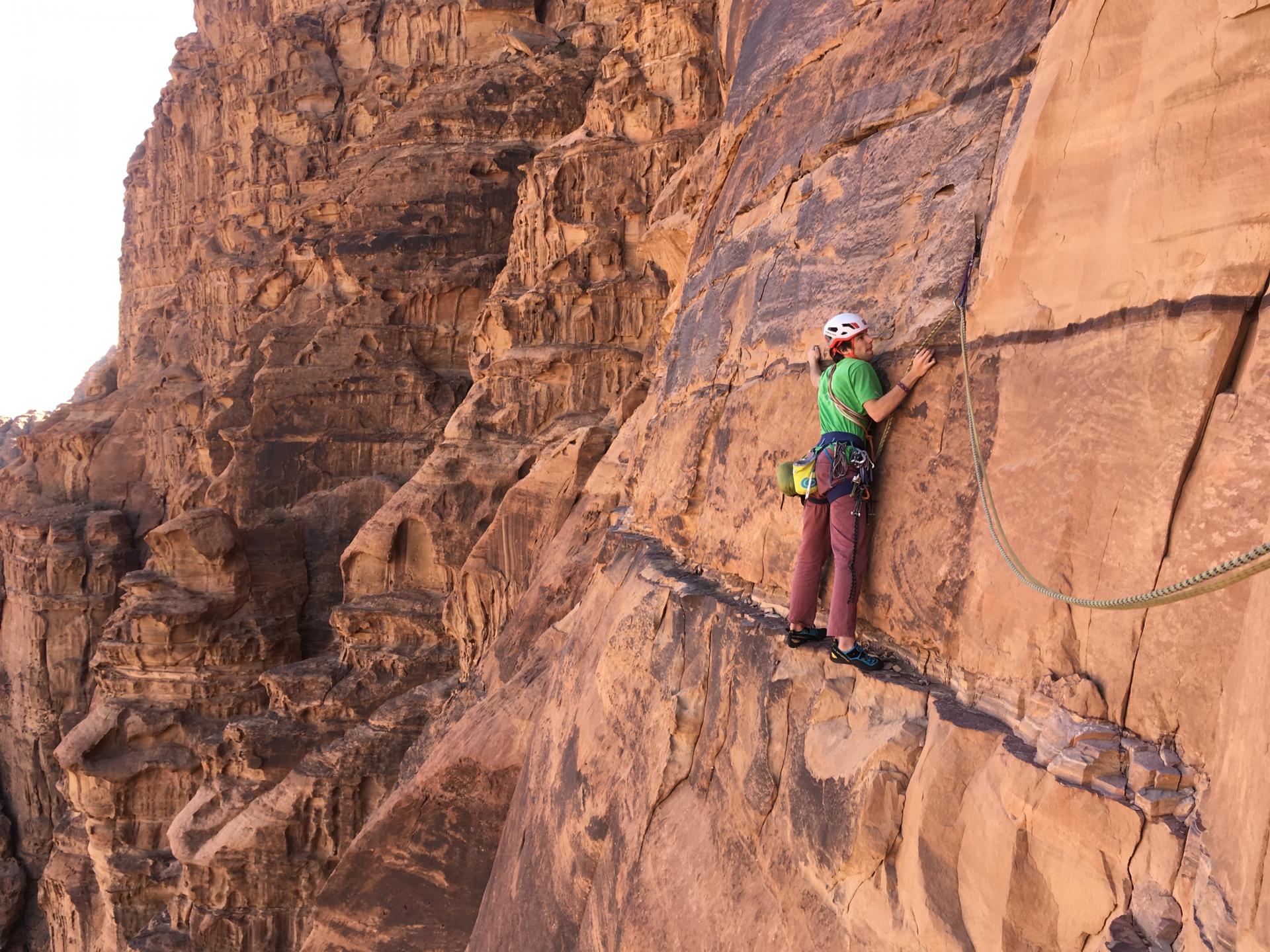 What's the climbing like?
The rocks in Wadi are organised into so-called domes, which grow right from the desert sands and rise to the sky. Since it was the British who started the climbing in Wadi Rum, you won't find a lot of sport routes here, although things have started to slowly change lately. As far as protection is concerned, you can go with the standard sandstone gear (slings) plus cams, nuts and a chalk bag clipped to your butt. There are always a couple of faded slings at most of the belay stations, but these should be secured or complemented with your own gear. Watch out! The intense desert sunshine rapidly decreases the load capacity of slings, so make sure you place your own protection wherever you have the chance!
What to climb in Wadi Rum
The 5c, 10-pitch route called Black Magic, situated near the village, is a good choice for a warm-up – a bit of adventure, a bit of route searching, a couple of belay stations with slings here and there and voilà, you've made it to the top.
Merlin Wand 6a is the most popular route in the Barrah canyon. Although there are no obvious cruxes on this outstanding 5-pitch crack, it is just an extremely photogenic route and the ascent is a delight for every climber, not just for crack lovers.
The Lion Heart 6b is an 11-pitch route of amazing crack and corner climbing, and one of the biggest highlights of the whole climbing area. The approach to the route is easy. You set out from Wadi in the direction of Saudi Arabia (south) until you reach a tree, 1 kilometer away from the village. You cannot miss it, because it's the only tree there is. When you get to the tree, head right and you're there. If you're lucky after you descend you'll be invited by local Bedouin into their tent for a cup of tea. The perfect experience.
Raid mit the Camel (7a, 14-pitch) is a stunning line up the main wall of Jebel Rum, with bolts fixed along the most challenging parts of the route. The route mainly consists of a mix of walls and corners, but there's also a chimney as well as a crack and, finally, two easy, yet tricky, slab pitches.
La Guerre Sainte is a gorgeous 11-pitch 7b wall, set by Arnaud Petit and lying on the dark side of Nassrani Nord massif. In addition to the tremendous climbing experience on a 400 meter high wall, this roughly 2 hour ascent will reward you with breath-taking views over an empty desert. If you brought your skis on the trip, don't forget to hit the sand dunes at the bottom of the wall.
Rock Empire 8a, set by Czech first ascensionists Ondra Beneš and Tomáš Sobotka, starts to the left of the already mentioned Raid mit the Camel and joins this route after 8 pitches. The most difficult pitches of this challenging beauty require a good deal of technical skill climbing tiny holes in the super solid sandstone rock. In one word: amazing! Don't worry, the crux is right under the chains of the third pitch and can be aid climbed, in case you want to avoid spending hours practising the right move and continue the ascent.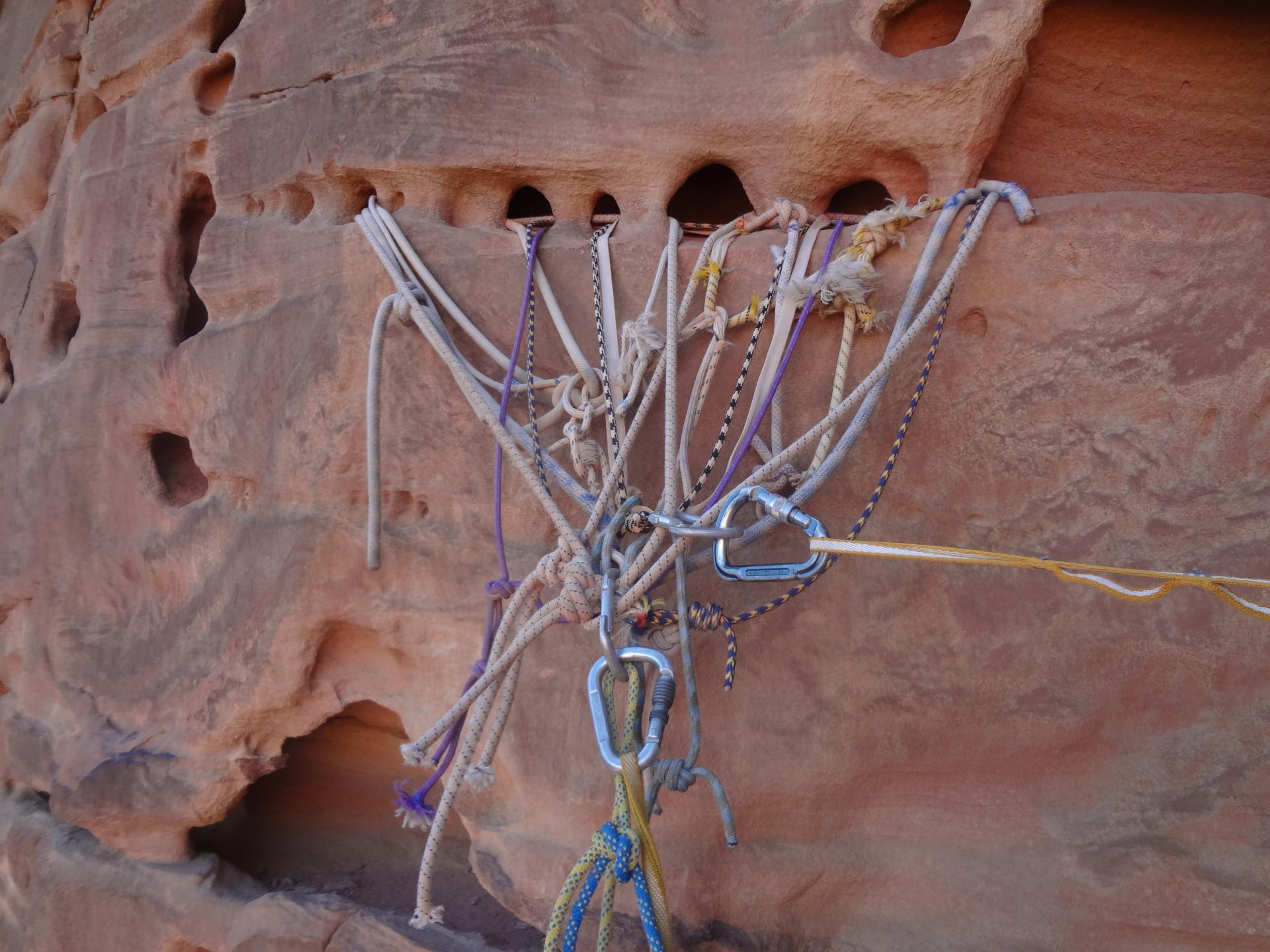 A couple of practical tips
There is no need to worry about your safety. Jordan is considered to be an oasis of peace, not only compared to Syria. Although Jordanians are nice to Europeans and tourists in general, a certain knowledge of local "Business English" is nonetheless needed. Jordanians initiate contact with a foreigner in a friendly way ("Hello, my friend!"), which is usually immediately followed by a straightforward message ("I have special price for you"). However, despite not buying anything from them, Jordanians remain friendly and you can learn a lot of interesting stuff by talking to them.
You should respect the local dress code – do not reveal your shoulders, nor (ideally) your knees. In other words, leave your miniskirts and bikinis at home!
Even though Jordanians have a terrible mess in their kitchen, they are excellent cooks, so go ahead and try hummus, chicken or some other speciality when you are in Aqaba. As for Wadi, during our stay there was a great, always-smiling Afghan cook named Abu Ali who had a tiny little restaurant. You'll have to check yourself whether he's still there or not. Things are more complicated alcohol-wise, because of the Muslim tradition. Fortunately, there is a so-called centre of vices in Aqaba, where you can buy beer or even something stronger from the specialized shop (ask for directions to the "Liquor Shop"), in front of which you can sit over a cup of coffee or puff a hookah.
And, finally, the coffee! Have a lot of coffee, and definitely the original Jordanian coffee – with cardamom and tons of sugar in it. I can guarantee that the espresso macchiato you're so fond of won't even occur to you once during your stay in Jordan.
So, don't delay, and set off for your desert adventure!
Photos: Ondra Horáček, Alena Čepelková, Standa Mitáč
Text: Ondra Horáček