Saxony (i.e. the climbing area of Saxon sandstone) is located in the German federal state of Saxony and spans both banks of the Elbe river, immediately after this broad and majestic river has left behind the state border, sailed passed the ÖMV gas station, Vietnamese market and duty free shop in Hřensko, and swiftly crossed into Germany. Spread over an area of 95 km2, you'll find 1,100 towers and 17,000 climbing routes. More than enough to spend lifetime of fulfilling climbing. A life filled with exciting experiences!
The sandstone of Saxon Switzerland never ends. So vast is the landscape it's divided into several smaller areas. The Schmilka and Schrammstein areas are usually climbed in spring because of the numerous south-facing walls, while the Affensteine rocks, whose walls generally face the opposite direction, are climbed in summer. Kleiner and Großer Zschand are great for those of you seeking romantic views and a little bit of hiking, whereas in Rathen, you can treat yourself to an ice cream or a little boat ride after the climbing is over. If you end up in Bielatal, it's either because you have your kids with you, or you want to show what climbing in Saxony looks like to your grandma in her Zimmer frame, or perhaps sober up after a night of heavy drinking. And finally, if you've already climbed everything there is in Saxony, or if you just want to spice things up, you should visit the mesas (Gebiet des Steine). This is a grossly simplified description, but there are so many places for climbing in Saxony that we've no choice but to make things brief.
| | |
| --- | --- |
| Schmilka und Schrammstein |  areas for spring climbing with south-facing walls |
| Affensteine  |  area for summer climbing with north-facing walls  |
| Rathen  |  loads of tourists, but on the other hand a relaxing triathlon of ice cream, beer and boats  |
| Bielatal  |  kids friendly, easily accessible  |
| Kleiner und großer Zschand  |  for romantics and fans of hiking  |
| Tafelberge  |  when you've climbed every tower there is or you need a change |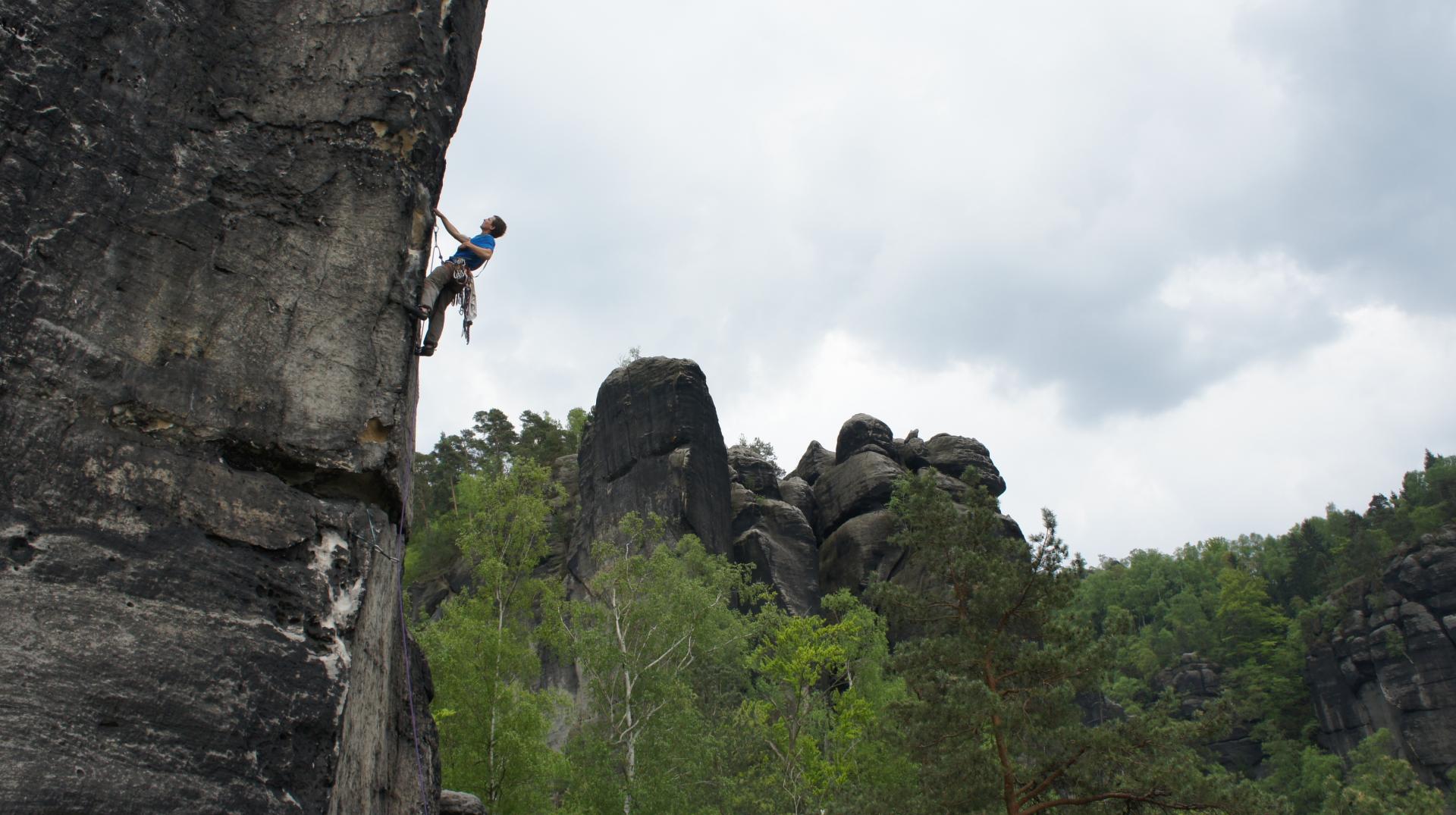 Navigating through Saxony
For German-speaking readers, I'd recommend the six (yes, six!) volumes of Dietmar Heinecke's continuously updated guide, which comes in a handy size with a colorful cover. There is also a topo guide written by the legend of Saxon climbing Bernd Arnold, with a fitting title – Der Elbsandsteinführer. You could try the 3-volume photo guide TOPO-Kletterführer, which was among the last season's bestsellers. The photos of the rocks in this guide have rather peculiar colors, but it shouldn't confuse you. Any of the above mentioned guides will do the trick. You can buy them online, at the Hudy sport shop in Hřensko, or in sports shops in Bad Schandau and Höhenstein.
Climbing rules
In Saxony, you can only climb dry towers only exclusively by means of free climbing, without the use of any metal protection gear (cams or nuts). Additionally, you are not allowed to use chalk or other chemical substances (on your hands, of course). On the other hand, you can climb at any time of year or time of day, and you can also use UFOs - a friend made of textile (but not those covered with rubber). So much for the most important rules for climbing in Saxony. However, for every rule, there's an exception: so, the climbing does sometimes involve scaling a few massifs and rain (ugh!). But remember, no chalk is ever allowed.
All you need for climbing in Saxony is to have the regular sandstone gear, which consists of a set of slings of various shapes, diameters and lengths, a harness, a rope, and last but not least, a bit of determination and guts. We also recommend using a climbing helmet and those textile nuts already mentioned above. Some of the more traditional climbers nevertheless consider that using these devices undermines the value of an ascent.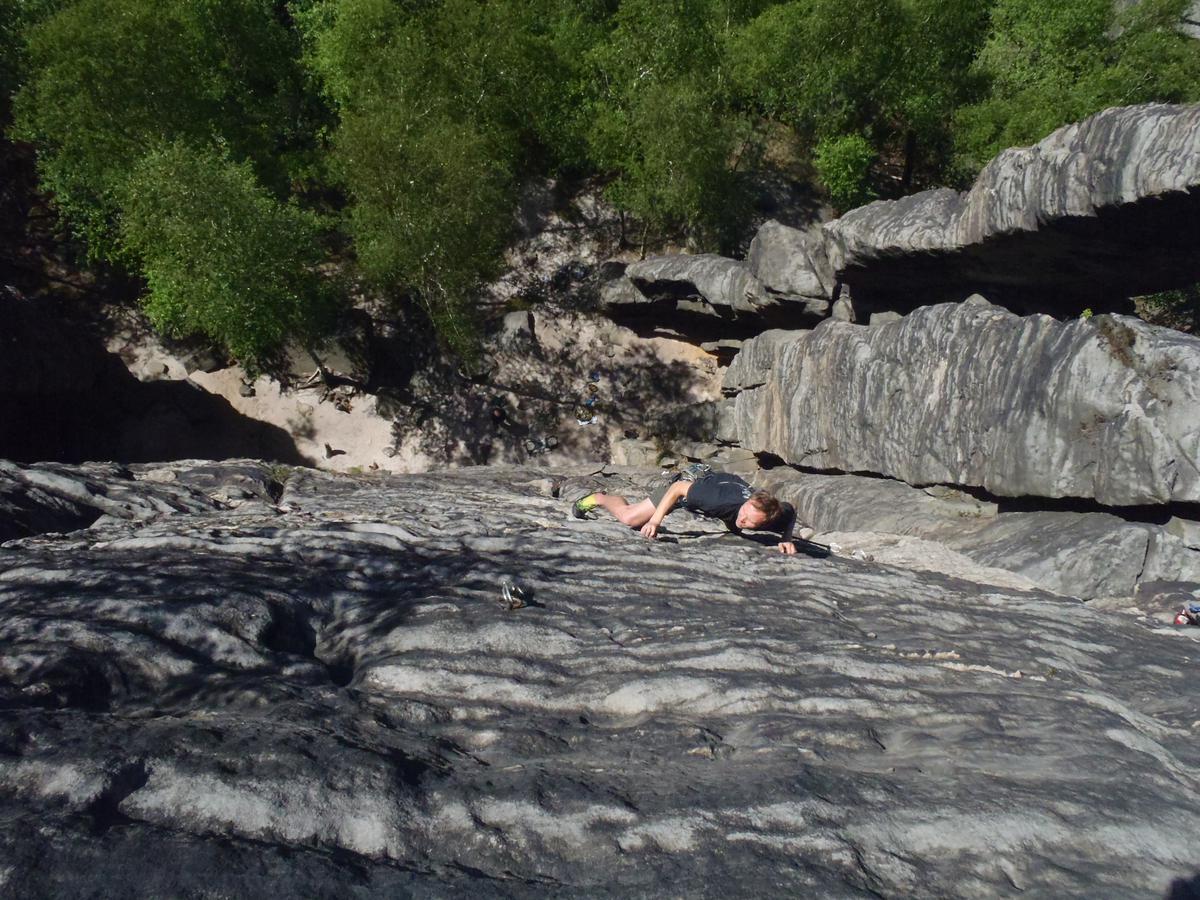 How to get there and where to stay
There are tons of ways to get there. If you're coming from far away, you can catch a flight to Dresden. To get to the heart of Saxony, you can kayak down the Elbe River, come by train, bike, bus, car or just walk. Most climbers come by car or train. Since Saxony is heavily visited by tourists, there are plenty parking spaces everywhere. Some are free, others you'll have to pay for (about 3 €). You could also get on one of the famous yellow sightseeing trams which pull out at Bad Schandau and pass through the valley of the Křinice River up to Beuthenfall. From there, you can set off for Affensteine rocks. As far as sleeping is concerned, I would recommend spending the night under one of the overhangs, since this is authorized in Saxony. However, such overhang must be labeled with a green tag and it is prohibited to build a campfire there. Overhangs labeled with the green tag can be found all over the Schramsteine, Affensteine, Schmilka and Kleiner Zschand area.
The most impressive grade III route in the world and other tips
And the final question: What to climb? Which of the thousands of routes should we recommend? Well, let's decide on an emotional and purely subjective basis. The Schusterweg route, a grade III from 1892, leading to the famous Falkenstein tower, is without a doubt the most impressive route in this category anywhere in the world. On this 150 meter route, you have the chance to climb a corner, a slab, a wall, a chimney as well as walking on a ledge and descending a corner. The route culminates with two small ridges that can be friction-climbed. As you ascend one chimney you cannot miss a bronze bust of the first ascensionist, Oskar Schuster. The story goes that if you pass Oskar by without kissing his nose, you'll have an accident the following year, so you'd better do it!
Once you're done kissing Oscar, set off for another route! Falkenstein, 80 meters high, has roughly 150 of them, so how about the VIIa Südriss route? This majestic crack, spreading across the southern face of the wall is a Saxon legend. At first, you traverse towards the crack, then climb through a couple of hand jams and buckets and, for the cherry on top, ascend a 30 meter long chimney. Three ring bolts, beautiful!
And for the VIII grade routes? You can't go wrong with the VIIIa Westkante route on Wilderkopf, the first route in the world with a grade of 7-, according to the UIAA classification. After climbing a chimney you get to a ledge spanning the south face of Wilderkopf. From there, you continue towards a ring bolt and traverse to the left until you reach a rounded and quite exposed edge. You then turn to your right, take a few deep breaths and set out upon a slab through another ring bolt towards the top. Pretty sick route for 1918. Hats off to you, Mr. Emanuel Strubich!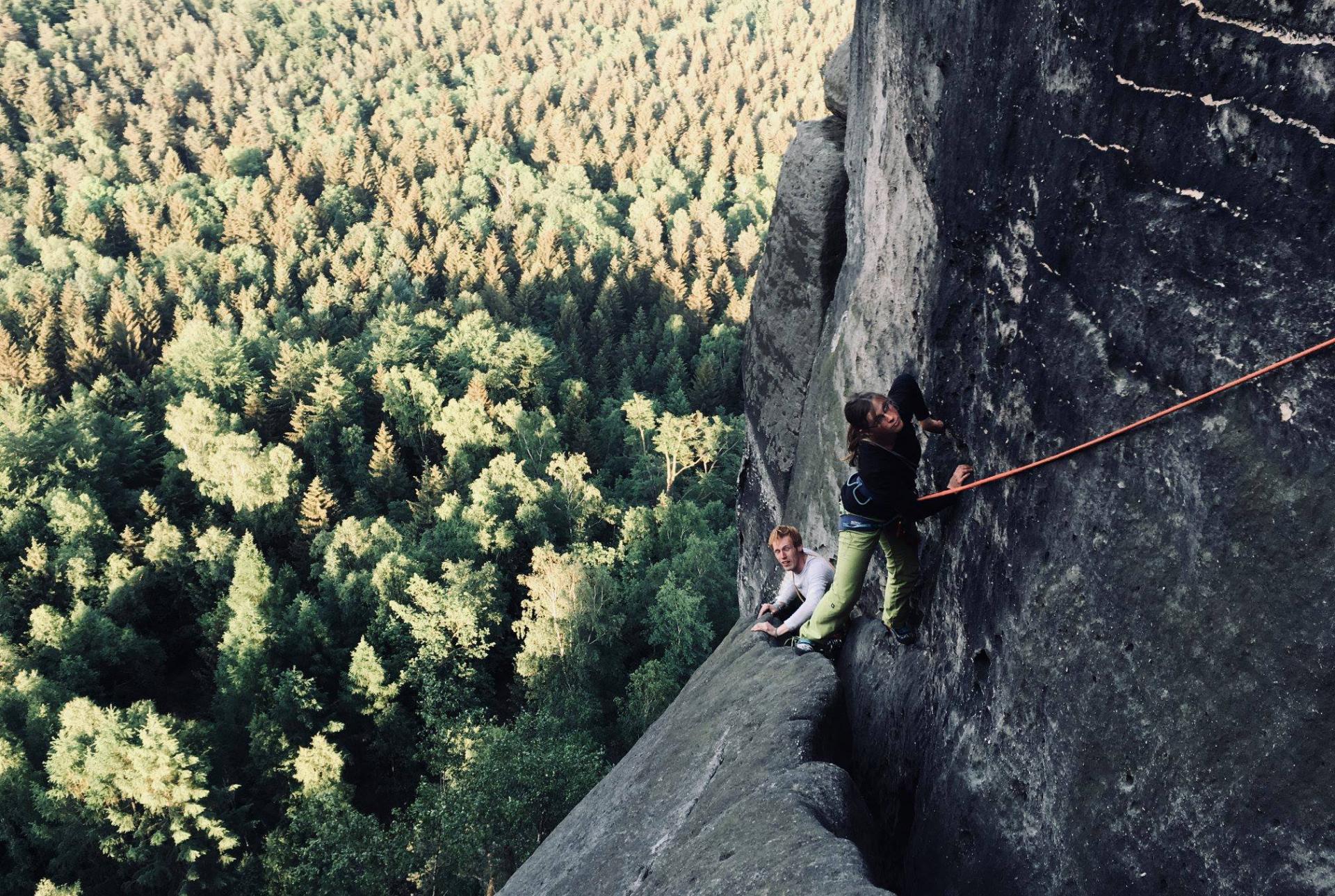 If you want to step up your game, go for the direct version, with its rather predictable name Direkte Westkante, an RP VIIIb from the equally famous Herbert Richter. The route starts at the fall line of the upper edge. From a standing position on the boulder, step across to a slightly overhanging wall, which later transforms into a slight edge with perfect hand jams. The problem is that after several initial moves it would be difficult to come back down to the boulder. The sand underneath the boulder would be ideal for landing on, but since the boulder is directly beneath you, you would land on it instead. So it's upward we go. Rumor has it that there's a watch hidden somewhere in the overhanging wall, but it's difficult to find and you get pumped in the meantime. The only way to escape is to reach a ring bolt about 8 meters from the ground. From there you climb on an edge, pass another ring bolt, then make a couple of moves in the crack until you reach the ledge, which is basically the starting point of the original route. After completing the direct version, the remainder of the route will feel like a piece of cake.
To calm down a bit, we could hit some of the grade IX sport routes, because surprisingly, there are quite a few "sport" routes in Saxony. On warm days, a great idea is Das muss kesseln, a RP IXb, situated on the narrow east-face wall of Amselspitze, located in the Rathen area. All you need is 5 quickdraws for the ring bolts and a few slings and carabiners to finish the climb with the Rengerweg route, a VIIc which is, by the way, also spectacular!
Or Landkarte RP VIIIc leading to the Wolfsfalle tower in the Affensteine rocks. This technical route with perfect walls and 5 ring bolts, created by Arnold himself, is definitely worth a shot. Though there is no extra difficult move on the route, climbing 40 meters of technical curved waves requires a great deal of self-discipline.
If you're looking for a majestic grade X route, go for Arnold's Buntschilernde Seifenblasse RP Xa, leading to the above mentioned Falkenstein.
You can find grade XI and XII routes in Saxony as well, but they must be really difficult because a) they look difficult, and b) not many climbers do these routes.
Whether you're a lover of cracks, corners or crevices, there's something for everyone in the Saxon sandstone rocks. Apart from Südriss described above (which, however, involves only about 5 meters of crack climbing) you can try for example the VIIIa Schildbürgerriss route leading to Müllerstein, the IXa Talseite route leading to Schwager, the VIIIc Ostrisse route to Dreifingerturm and many others.
And we haven't even mentioned any of the routes up the other dominant peaks, such as Höllenhund, Blozstock, Brosinnadel or Teufelsturm. If you still keen for more, look them up in the guide.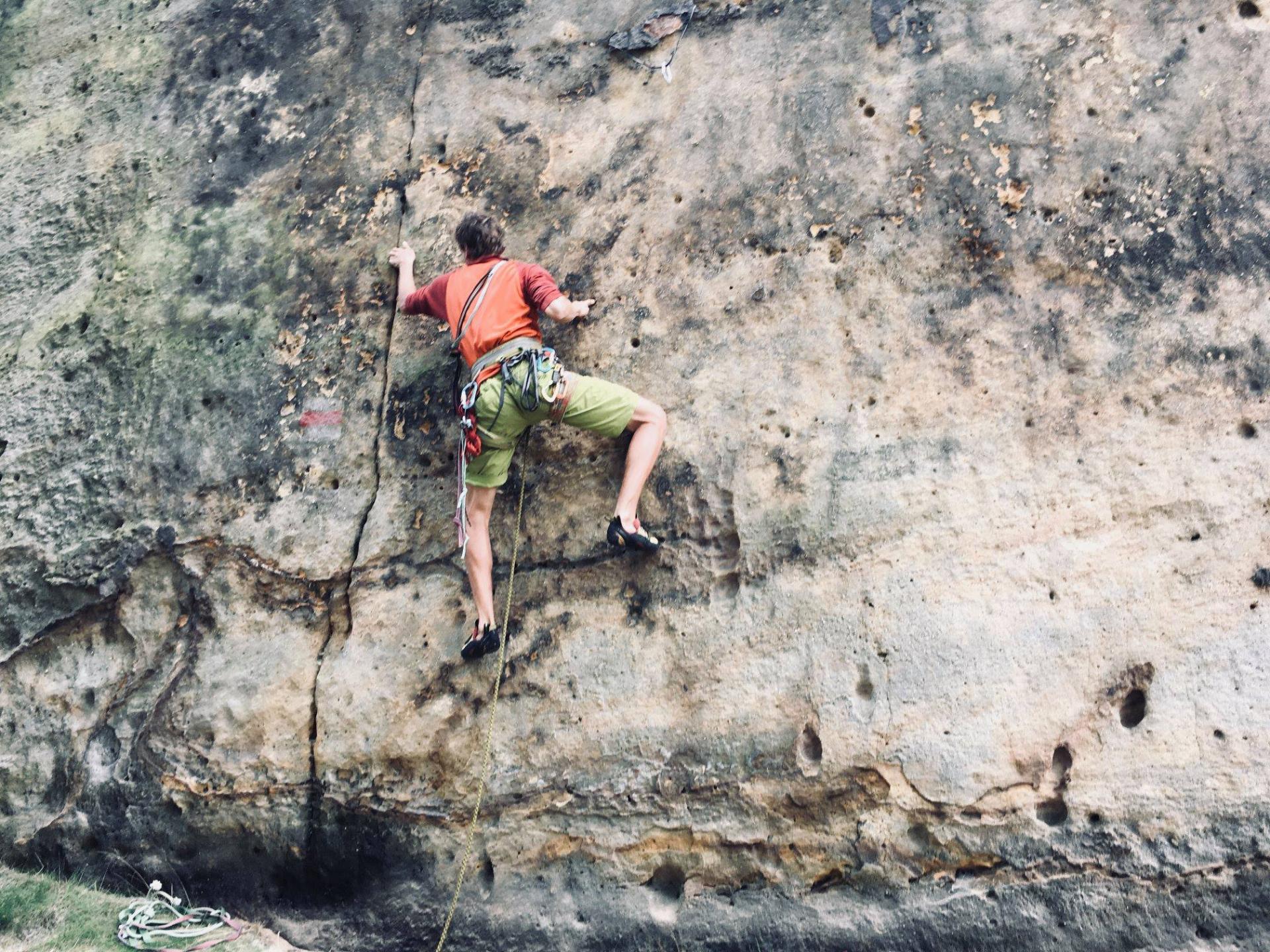 Final word of advice
Our recommendation is pretty much the same as for other climbing areas;  above all, don't underestimate the situation, but at the same time don't be too afraid of the route ahead. Just tie yourself properly into the harness, take a couple of slings and quickdraws, definitely a sweat towel to dry your hands, and jump to it!
Meisterwege:
A list of the most difficult routes in the entire region of Saxony published in 1974, containing 92 items. Those who were able to climb 12 routes from this list in a single year were promoted to a prestigious class, the "Meisterklasse". This is a vestige of the central planning and slightly absurd classification used in mountaineering in the former GDR. Some people seek out these routes while others avoid them. While some of the routes are beautiful, that definitely doesn't apply to all of them. Climbing any of them is nevertheless always a very powerful experience.
Photo: Ondřej Horáček, Jiří Hušek, Jakub Jandík
Text: Ondra Horáček