Maltatal basics
Maltatal is a valley located in the sunny southern Alps. More specifically in the High Tauern mountain range in the Central Eastern Alps in Austria´s southernmost province Carinthia. It follows the course of the Malta river down towards its confluence with the Lieser. It offers both, lead climbing and bouldering. The rocks are situated at the elevation between 800 m and 2200 m, which means that you can climb here from February til November and always find a crag with convenient temperatures. You don´t have to stay at home even in winter, because Maltatal is an amazing ice climbing area as well, offering about 50 great lines from WI1 up to WI7 and M12.
You will find a bit of everything here. Amazing slabs, very technical wall climbing, steep overhangs and also a typical "Maltatal style" problems. This means slightly overhanging route with very round holds - half crimps, half slopers. On one hand Maltatal offers great problems for beginners and on the other hand it has some really hard problems, which are the ultimate challenge for even the best climbers in the world. As previously mentioned, local crags are famous for its "crimp-style" problems, although there can be easily found also problems which don't contain crimps at all. But overall you definitely need to feel comfortable on crimps if you want to fully experience Maltatal.
Although Maltatal offers such a rich variety of climbing activities, it is by far the best known for bouldering.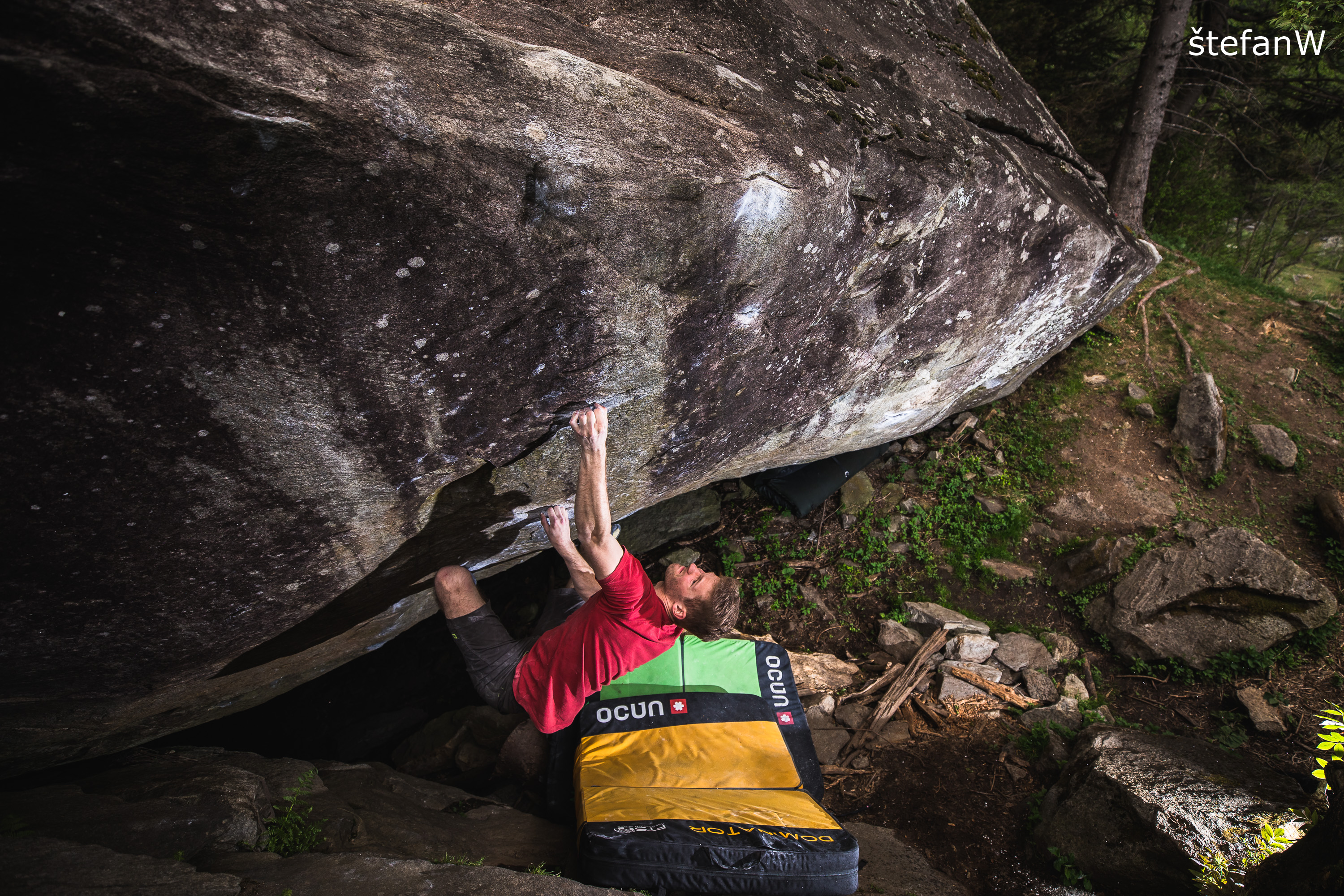 Bouldering in Maltatal
There are two main sectors - sector Hauptgebiet and sector Bienenlehrpfad - for bouldering, offering more than 300 boulders in total. All the boulders are nicely cleaned, with solidly built landings.
The best boulder lines that made Maltatal famous are the hard ones, but there is a number of easy gems to be found as well. If your climbing level is 8A or above, I would definitely recommend you to go and check out the following problems: Air (8B), Bügeleisen stand (8B+), Orgasmatron (8A), Wrestling with an Alligator (8B), Petting with an Alligator (8A+), Power of Goodbye (8B), Pluto auf der Jagd (8A+) and Unterland (8A).
For level below 8A there are also some wonderful problems like: La balance (7A), Xeni styler (7C+), Steinburch (6A), Franky was here (7A), Meilenstein (7A), Flying Bumblebee (7B+) or Marmeladeamele (7B+).
In general it´s possible to say that it´s easier to find a hard boulder in Maltatal rather than an easy one. But don´t worry, there are further options…
Sport climbing and multipitches in Maltatal
Maltatal offers 25 sport climbing crags with about 350 single pitch routes and 70 multipitch routes. Protection equipment of the sport climbs has been recently changed, so you find here mostly new bolts that you can perfectly rely on.
The sport climbing offers plenty of great routes in the lower grades so it´s a suitable holiday spot for beginners and intermediate climbers alike. You´ll find here many nice routes in grades ranging between 5a and 7c.
Some of the routes to try are: Tatonka L2 (7b+) and Tatonka L1 (6c), Marie Luise (7b+), Geierwally (6b+), Jeder wie er will (6b), Short cuts (7a+), Memphis Tennessee (6a) and Cobra (6b+).
Brief look to the history of climbing in Maltatal
One of the locals and main developer of the area is Gerhard Schaar. In addition to cleaning the lines and making landings, he is also responsible for the publishing of the guidebook and protection in the routes.
Big role in making Maltatal what it is today also played Klem Loskot, local form Salzburg. He made rock climbing his life´s passion and with that in mind he started to discover and develop new places throughout the country. One of many areas he helped establish was Maltatal.
In 2001 Klem Loskot climbed Bügeleisen stand 8B+. Not only the most famous boulder in Maltatal till this day, but also a huge accomplishment in the sport of climbing generally back then. It suddenly turned Maltatal into a world known climbing area and brought the attention of many climbers from around the globe. After the send of Bügeleisen stand 8B+ Maltatal saw many more new climbers coming and started evolving into a kind of climbing paradise that we know nowadays.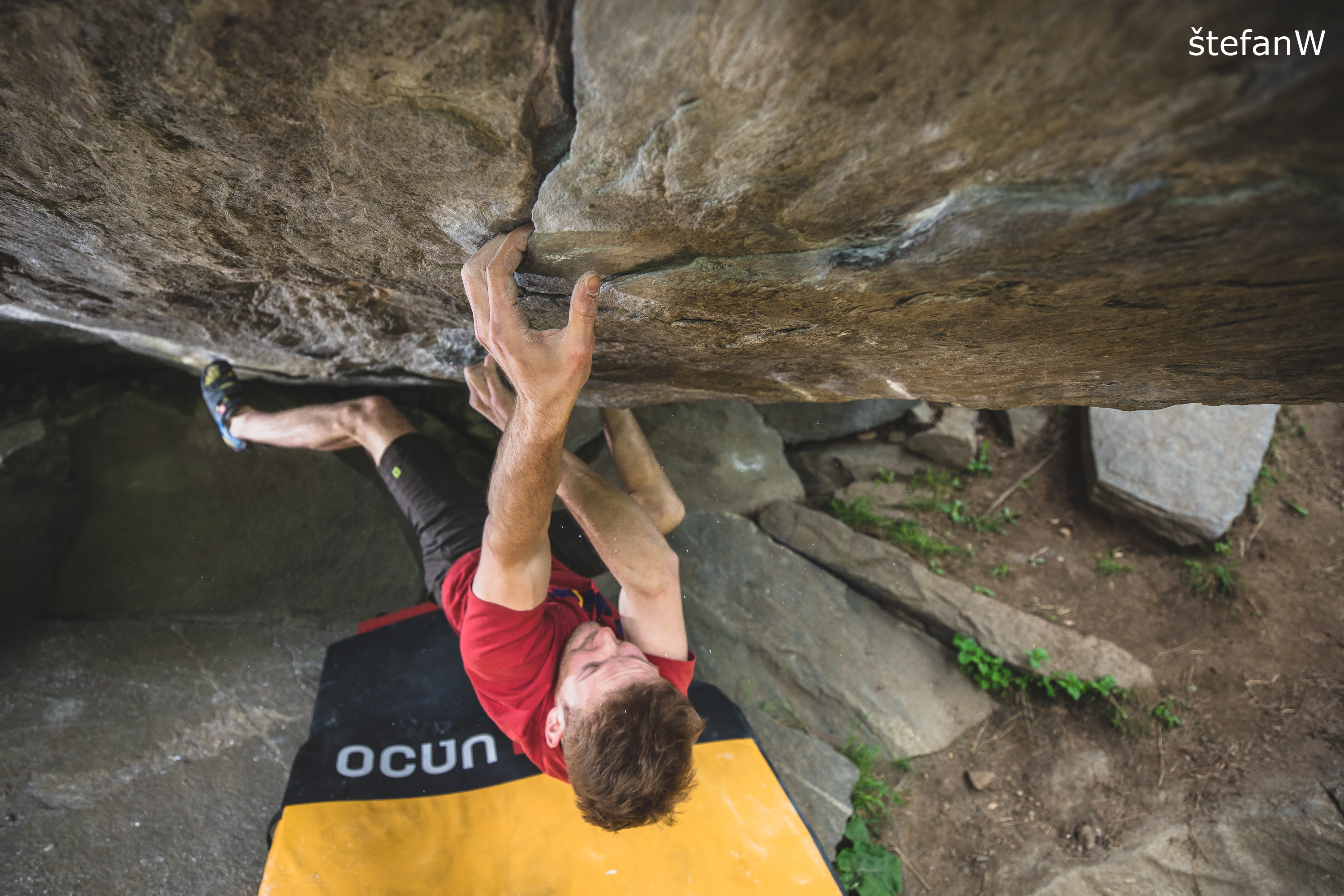 Practical info
The area is easily accessible by car through the Maltatal valley. There is a parking right in front of the crags where climbers usually leave their cars. Some people like to sleep in their vans here, but that is not recommended due to the dislike of the local farmers, who aren't exactly friendly with climbers. To keep the situation stable, I advise that you use the established paths for walking in between crags and boulders instead of  making shortcuts through the meadows.
The best place to camp is called Terrassencamping Maltatal. If you are not the camping sort of people, you can find an apartment to rent not too far from the camping area. For food and gas you only need to go to the village where you find a small grocery shop and the gas station. The village even has its own climbing shop, where you can buy the guidebook and other necessities. If small shops aren't enough, you can always drive to the nearby town named Gmünd where there is a wide variety of stores.
As far as the climbing is concerned, everything you need for bouldering are some crash-pads, climbing shoes, chalk and great company. The approaches are generally short. There are a few boulders visible already from the parking. Some of the other rocks require up to 15 minutes of walking.
If you decide to do some sport-climbing, then you won't need crash-pads but a rope, draws, harness etc. instead. The longest routes can be as long as 40m, so I recommend taking 80 m rope with you.
The third option is multi-pitch climbing, there you will need some additional equipment,  but nothing beyond the ordinary according to the guidebook. Routes vary from three to twelve pitches. The approaches to them take between 5 and 40 minutes.
Personal impressions
For me personally, Maltatal is simply the best bouldering area. It is pretty close to my hometown in Slovenia and it offers high quality boulders. It'd be really hard to find such a perfectly shaped gneiss rock in Slovenia and that´s the reason why I keep coming back. I´m enjoying climbing on any type of crimps because crimps are my strength. In addition to that, the lines are really amazing. There are many powerful moves accompanied with precise footwork. You can even find some jumps here, if you look around.
If I was about to name my most favorite boulders as a personal recommendation to you, they would be: La balance (7A), Power of Goodbye (8B), Emotional landscapes stand (8A+), Pluto auf Der Jagd (8A+), Unterland (8A), Air direct (8A), Holy line (7C+) and Bügeleisen stand (8B+).
It simply suits your style
Maltatal is a great place to climb and yet it´s still not super crowded. The beauty of nature and climbing are both here in balance. I would definitely recommend Maltatal to you - whether you are looking to try hard, or just relax in the nature. Both can be done here. Furthermore, it offers variety of climbing styles – you can come here if you are ice-climber, boulderer or sport climber. In any case, you are guaranteed to find something that suits your style. I think there is not much left to say other than Go check this place out!