Kyra Condie becomes new Ocún ambassador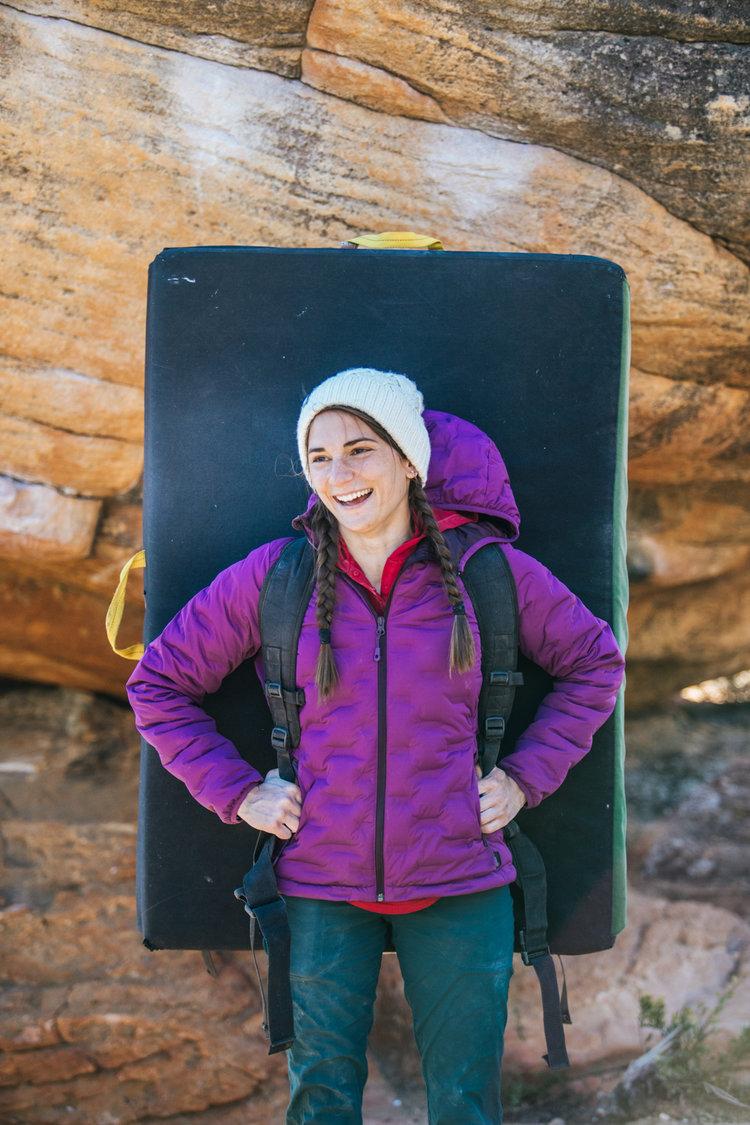 About Kyra Condie
Kyra Condie is 23 years old professional climber from USA. She has recently moved from Minnesota to Salt Lake City to train here for the Tokyo 2020 Olympics, for which she has qualified last year as one of the three American sport climbers.
She started climbing at the age of 11. After she had completely fallen in love with the sport of climbing, she was diagnosed with severe idiopathic scoliosis. It was devastating news, but Kyra didn´t let her condition break her spirit. In 2010 she underwent a spinal fusion surgery after which it took her several months to recover. Her motivation to get back to hard climbing was so high that she started winning major competitions and improved way above her own level before the surgery.
Kyra is known for her aggressive and quick climbing style as well as for her dedication to strictly organized training routine. She is achieving very balanced results in all three disciplines of the Olympic format – speed climbing, bouldering and lead climbing.
Apart from climbing Kyra likes studying, watching Netflix, doing jigsaw puzzles, discovering new coffee shops and volunteering at animal hospitals. One day she´d like to attend veterinary school and become a veterinarian.
How hard did you work to make it to Tokyo?
I finished university in 2018 and was able to focus full-time on my climbing and training. Since then, I've focused most of my effort on trying to qualify for Tokyo, even without knowing how likely that would be. I knew I had a good chance, but would need to train really hard in order to achieve it. Leading up to Toulouse I felt like I was in the best shape of my life and was really proud of the work I had put in, I'm so happy my hard work paid off.
Was it harder to improve to the Olympic level now or get back to climbing after your surgery when you had different kind of doubts to overcome?
I think improving to the Olympic level was definitely more challenging than initially overcoming my back surgery. But, some things that made improving to the Olympic level so difficult are the limitations I face with my back. As competition climbs get weirder and the style changes, I find more and more positions that are really challenging for me. There are also a lot of common strength exercises that I find extremely difficult because I can't bend or twist my back, so finding methods around that to stay balanced as an athlete has been really challenging.
What does your schedule look like now? Do you have time for other activities, or is your life climbing only until Tokyo?
After qualifying in Toulouse I took a little bit of a break from training and went climbing outside, but now that the Olympics are 6 months away I am focusing on my training again. I have a minor ankle injury at the moment to I'm focusing on building a base of strength again before I start working on my weaknesses that are specific to competition climbing. Living in Salt Lake City now, I have access to a lot of resources to train speed, lead, and bouldering, and really good coaches to help me with movement, so I'm planning on mostly focusing on climbing for the next few months.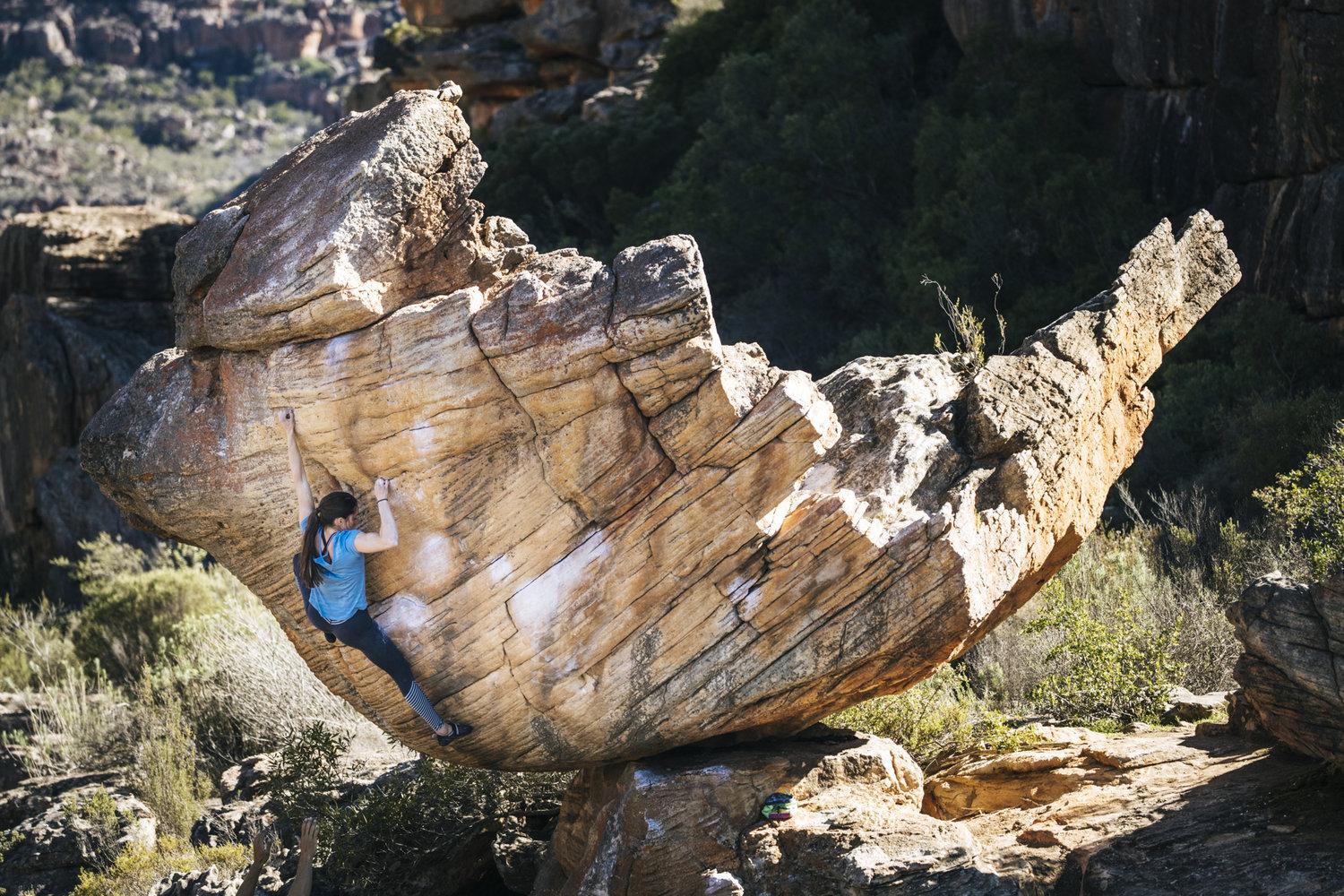 Why did you join Ocún? What are your expectations from this union?
I've always been interested in trying Ocún shoes, especially since I saw them in the Rocklands on so many strong European climbers. When I tried the shoes I really liked them, the rubber is super sticky and the shape fits my foot really well. I love that the company is willing to work with me to create something really cool and that they saw my potential to make the Olympics before it happened.
What does "reckless abandon" mean? Where did you get your climbing style?
The term "reckless abandon" came from a commentator at a competition who used it to describe my style of climbing. I think I tend to climb without much hesitation and always give a problem 100 %, which sometimes pays off and sometimes doesn't. For an example of this style, watching the lead climb from the qualifiers of Toulouse is a great example, I don't think I've ever fought so hard on a climb.
What style of routes and boulders fits you the best and what is your anti-style?
My favorite style of climbing for both boulders and lead is straightforward and overhanging. I love when the secret to sending a climb is to try harder. My anti-style is anything that forces you to move slowly, especially mantles on slab and terrible feet that you have to trust.
When did you first try speed climbing and how do you find it?
I started speed climbing as a youth climber. In the US, it's common to do all three disciplines while you are in youth competitions. So, I've been competing in speed climbing since I was 12, on the official wall since I was 14. My only medal from Youth World Championships is actually in speed climbing as well! But, I've never identified as a speed specialist, it was always something that I competed in for fun, which worked out really well for the 2020 Olympic format.