Croatia then and now
When I started writing the first climbing guidebook for Croatia in 1991, there wasn´t much to be described. Only 16 areas existed in the whole country and some of them only had one or two routes to offer. It was the war time and I felt a strong need to focus on something nice and look to the future. That´s why I started.
Now, almost 30 years later, the situation is as different as it could be. When I prepare new editions of the book, I have trouble to decide which areas I will include and which I will have to omit. Croatia of today is one of the most interesting countries in Europe to visit for climbing. And yet its potential is still not fully realised. Many great lines are waiting to be bolted. Local climbers are working hard, but the community in Croatia is not that big. Recently, climbers from abroad started coming to make their own first ascents here and help us.
Great rock, beautiful views
Thanks to the youth of the majority of areas, bolts are usually new and the rock is not polished. Crags are also not very crowded – this rule has probably just one exception named Paklenica. As a logical consequence of Croatia´s geography, most areas are near the sea. So great views and experiencing lots of natural beauty is guaranteed. This fact also pretty much settles the activities for your rest days!
Climbing in Croatia is possible throughout whole year, there are always places with shade or sun to be found. The very best season to visit is from autumn to spring, though.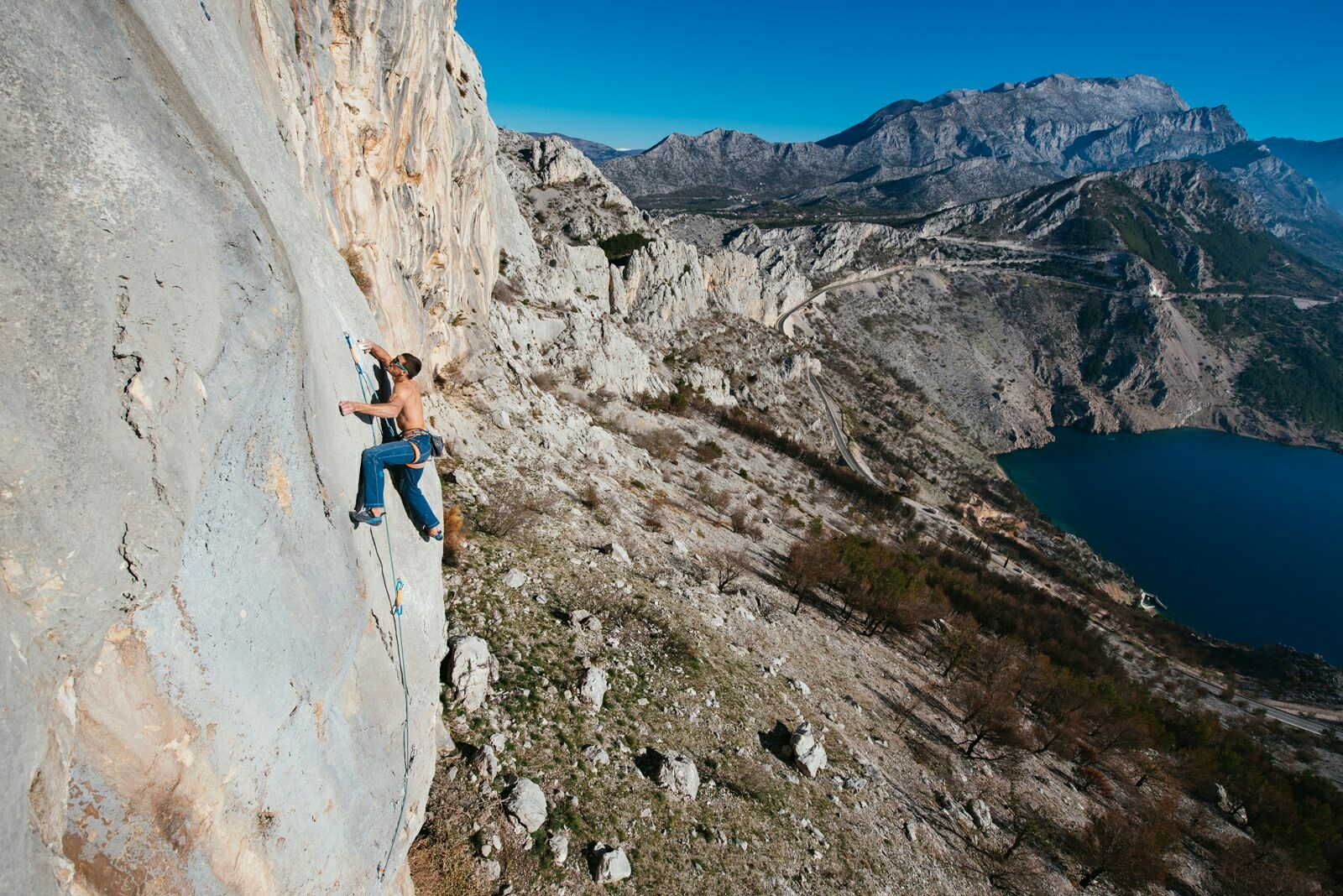 Where to find your crag
We can divide whole country to a few big climbing regions: Istria and Kvarner on the northwest, Dalmatia and the islands on the south and a smaller region on the north of the country.
NORTH
Let´s start with the smallest one. There are not as many areas in comparison with the coast, but the place is worth a visit, especially if you are heading to Zagreb. I recommend two very interesting spots: Pokojec and Kalnik. The latter is one of the most visited climbing spots in the whole country and also a home area of climbers from Zagreb. It is situated inside and around a medieval castle known for the battle between Croats and Tatars in the 13th century. The castle and main sectors are on the top of the Kalnik mountain, so they offer a very nice view of the countryside. Kalnik offers a big number of easier and middle-graded routes. Altogether there are more than 170 well equipped routes, the approach is short and there is a mountain hut which is offering accommodation and good cuisine.
Pokojec, on the other hand, is interesting for its very rare type of rock. It was formed by deposition of marine sand and stones of the former Pannonian Sea. In the rock and underneath it you can often find fossilized shells. Climbing here is very specific – most of the holds are small finger pockets or slopers. Strong fingers and good footwork are both very important here. Unlike Kalnik, this area best suits experienced climbers. Half of the 80 routes are ranked 7a or higher and yet the grades do not tell much about this place and its style. Climbing here is special and every onsight is really tough.
ISTRIA AND KVARNER
The Istrian peninsula is separated from the rest of the country by Učka mountain. Every time I pass the tunnel and enter Istria, I have a feeling that I have arrived in another world. It´s a charming place, small hills and quiet medieval villages are everywhere. The coastal part is different in the touristic season, of course, but the magic isn´t lost even then.
For climbing Istria is definitely one of the best and most developed regions in Croatia. This is because of its proximity to Italy and the rest of Europe. The routes are therefore being established here not only by locals but also by many foreign climber, Austrians and Italians especially.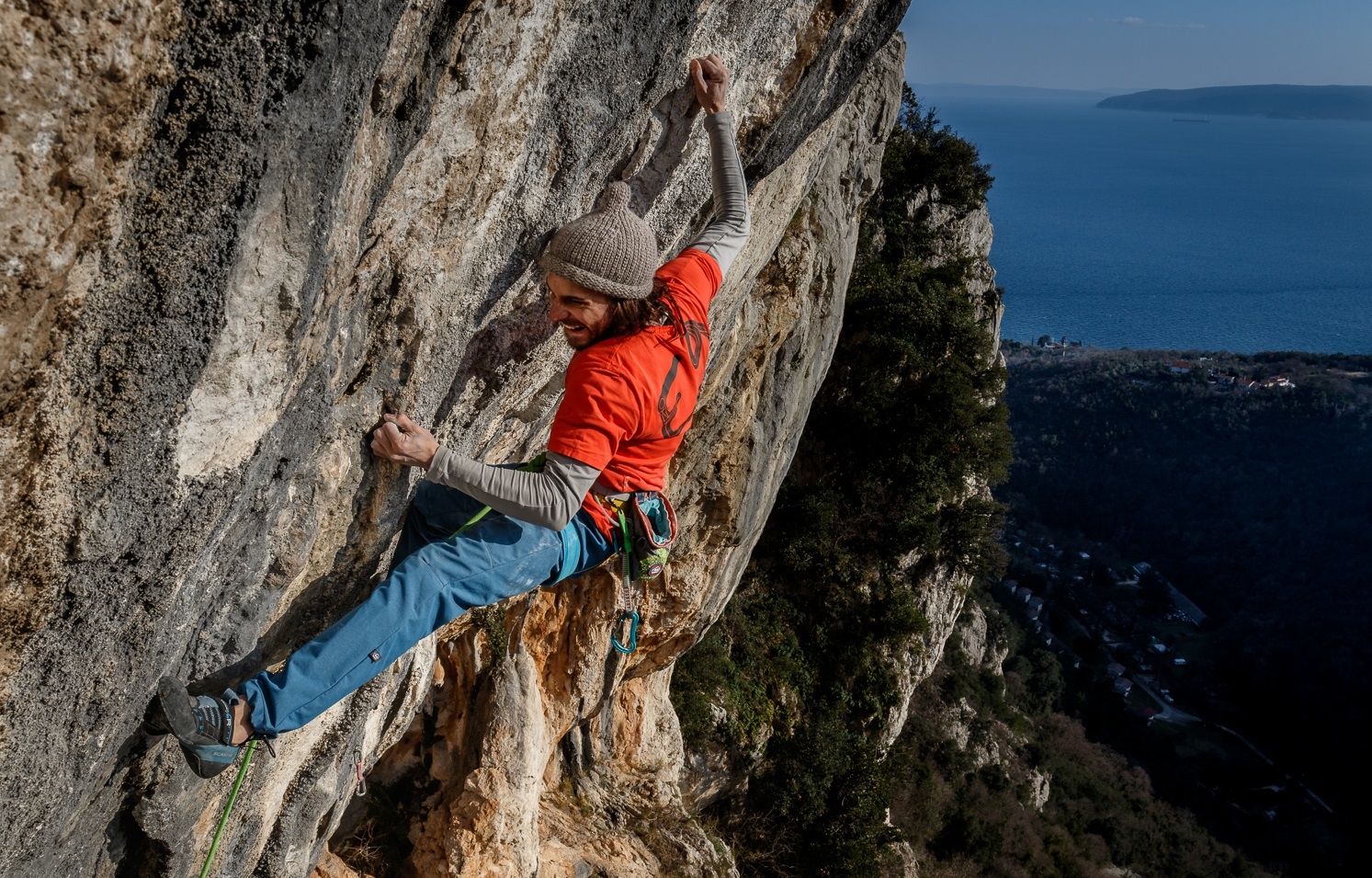 The center of Istrian climbing lies around the town of Buzet. In the circle of 10 km, you can find some truly fantastic climbing spots. The most popular one is Kompanj which offers more than a hundred routes in very good limestone, mostly vertical or slightly overhanging with small crimps and tufas. In winter, conditions are perfect with plenty of sun. Most of the routes are in the range of French 6th and 7th grade. The only disadvantage of Kompanj is that it´s becoming a bit crowded at the weekends. Luckily, you can find two other smaller crags nearby under village of Roč, if you seek a calmer atmosphere. I especially recommend the routes Sunset Roč and Rock´n´Roč.
Stronger climbers will be happy at nearby Pandora. A huge overhang with tufas offers more than 30 routes mostly in grades 7b and higher. The special charm of this place is most palpable in early Spring when a waterfall comes down through a hole in the overhang.
Buzetski Kanjon is the largest crag of Buzet area. In six different sectors you can find about 120 routes in all grades. Most popular are sectors Đoser and Pengari. The latter one offers very nice long endurance problems. If you come here in summer, visit the sector Befana. Local tufa routes are long and demand good endurance. Other sectors that I also recommend to your attention are the newly bolted Istarske Toplice, rather old Frat and also Wellness Center. They mostly offer vertical climbing with occasional slabs and tufas.
Easy routes can be found near the city of Rovinj at the peninsula Punta Corrente. There´s 130 of them mostly in 4th and 5th grade. Beginners, families and hobby climbers will be happy here. Not far from Rovinj you can also visit slabby Dvigrad with very small crimps and its hardest route Malvazija (8b+ and after some holds broke off even a possible 8c+). Then you can move to Limski Kanal with five different sectors with good routes mainly in middle grades.
Eastern coast of Istria has a formerly secret crag of Medjeva located high above Medveja village and offering a fantastic view on the sea and lot of sun in winter months. It is one of the best climbing spots in Croatia, very interesting especially for top climbers. Rock quality is superb and routes are well bolted. Medjeva offers mainly endurance climbing on tufas and technical slabs. It is the home of the hardest route in Croatia at the moment, 9a climbed by Adam Ondra. Because Medveja is a part of the Nature park Učka, all visitors must carefully take out their waste, follow the parking rules and avoid any activity which can have negative influence on the ecosystem.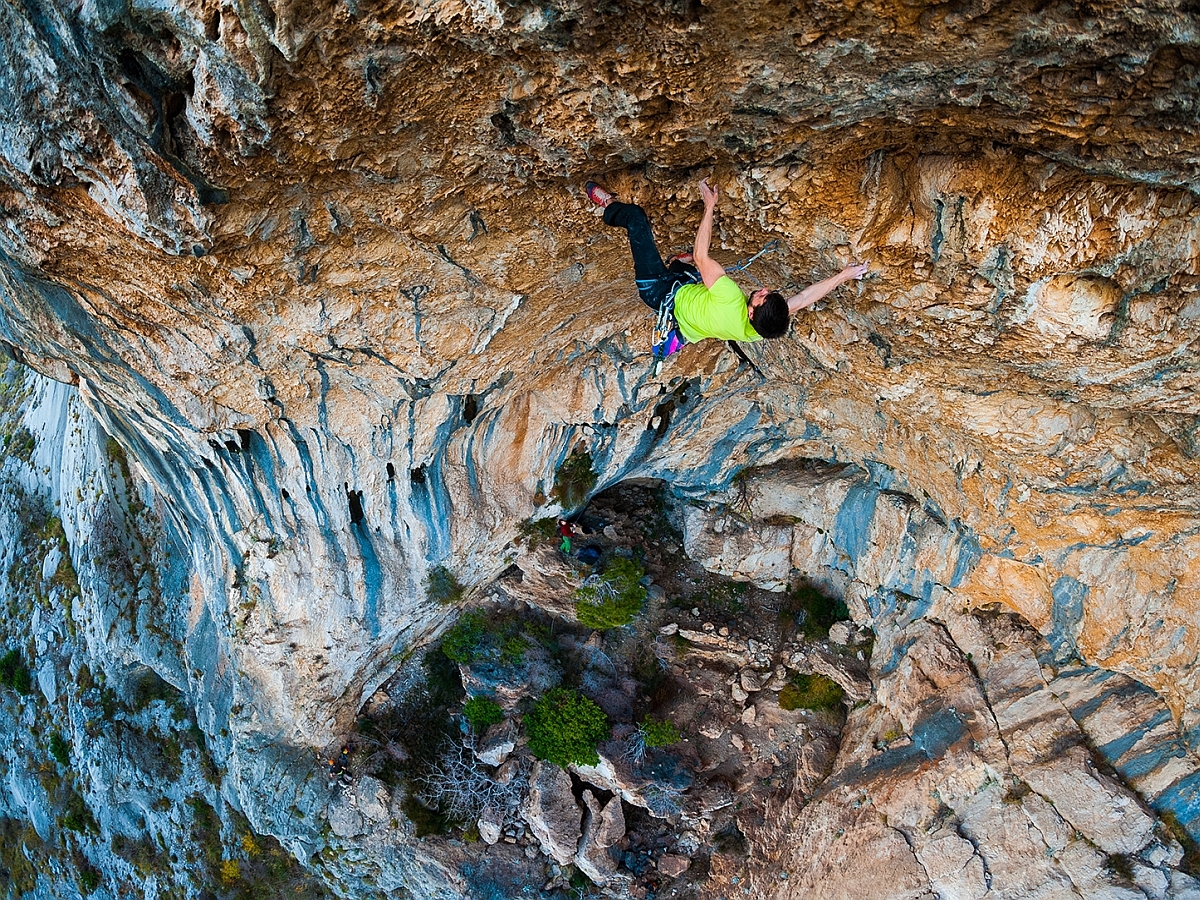 There´s so many crags in Istria now, so I'll only name a few more of them to bring them to your attention: Brseč (in sector Šip you need to rappel from the top of the sector to the anchor right above the sea and climb back to the top – unique experience), Nad Križem (sport climbs with great jugs on tufa long up to 45 m, usually dry even when Medjeva is wet), Dabarski kukovi (multi-pitches in good rock and beautiful surrounding).
DALMATIA
Dalmatia has a great potential to become not only the biggest climbing region in Croatia, but also an important spot on the climbing map of Europe. Climbing sites can be found around historic city of Split, further south around Omiš and Makarska and also on the islands – Hvar, Brač and others. Dalmatia offers a pleasant climate, calm atmosphere of the historical sites and sea coast and most importantly, well developed and yet not crowded climbing areas.
Westernmost area of the region is Trogir. It´s a good winter spot with variety of routes on slightly overhanging rock with tufas and sharp crimps. You´ll especially enjoy it if you like to climb French 7s. The crown jewel among all the areas here is Markezina Greda, located above Klis fortress. If you feel strong, climb Megdan 8b+ (fight in English), the first route that lead to the top of sector Velika rupa. Markezina Greda offers mostly harder routes and on sights aren´t easy here either. Visitors are usually surprised by the tough grading and locals call it a golden standard. If you choose to come here, you´ll get a nice chance to answer the question whether you climb for the grades, or for the beauty. If it is for the latter, you´ll like this place.
If you appreciate friendly grading, you might be happier at Klobuk, a smaller area located on Mosor mountain. Klobuk is new and still has a lot of potential for future first ascents. It is a calm place, not too far from Brač island. Slabby routes with tufas can be found at Perun.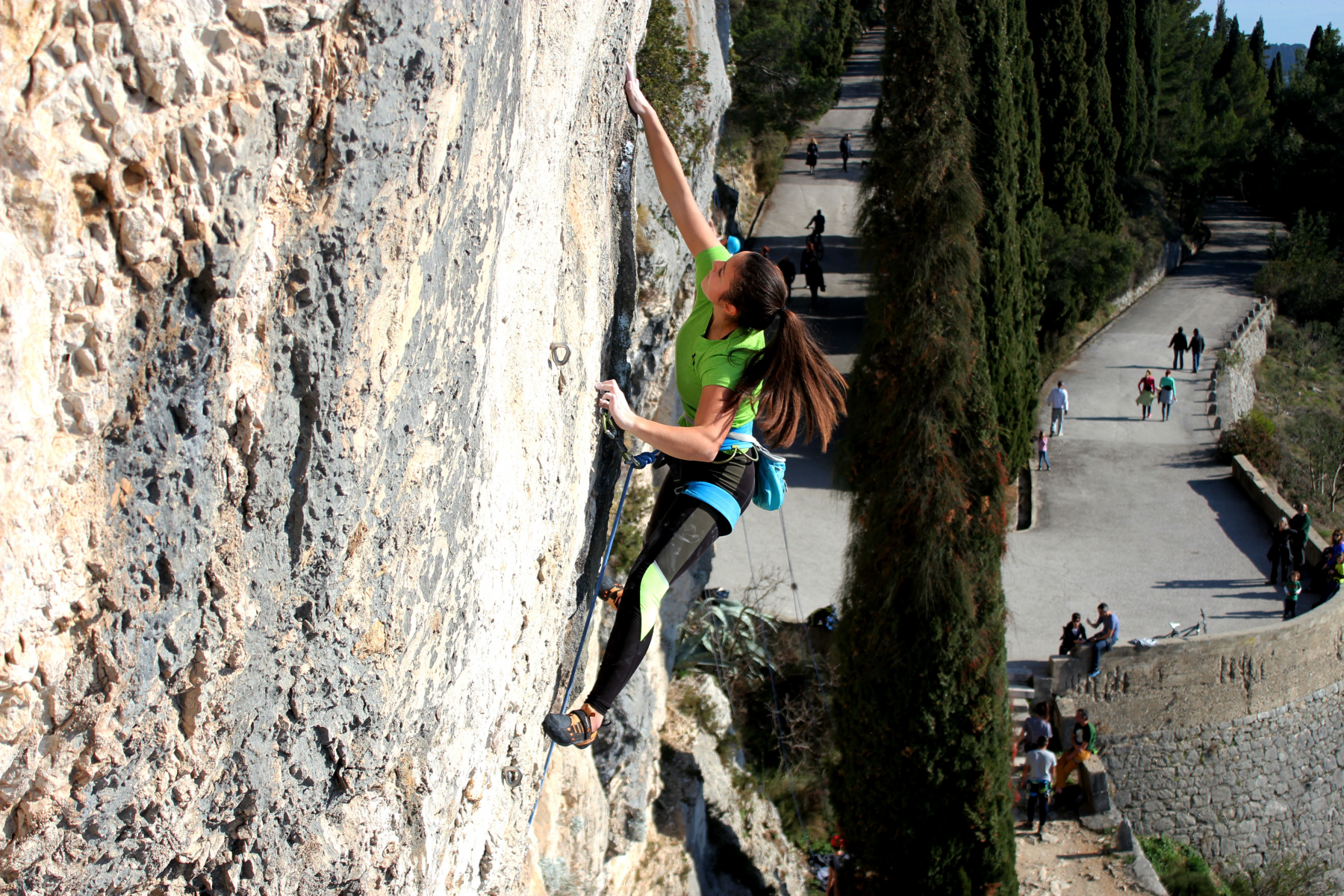 Vanna Piccini, Marulianus, 7c, Marjan , foto Stjepan Krešić
Marjan is a historical climbing spot. In 1986 one of the first climbing competitions in Europe took place here. It is an ideal winter crag protected from strong winds and dry immediately after rain. Routes are well bolted and the place itself is very pleasant – sitting on top of the hill of a small peninsula. It´s also close to the city harbour.
Let´s move to the city of Omiš and discover the areas nearby. By number of routes Omiš is the biggest Croatian climbing spot. The extraordinary property of crags in Omiš is their diversity. You´ll find here everything from grey slabs to long tufa endurance routes. You can even try some multi-pitches here (up to 300 m long). Climbing is possible all year round, approaches are generally short and perfect road network enables easy transfers between the crags. I especially recommend sectors Planovo and Babina bara, if you look for easier routes. Visoke pole is a good summer destination. And to the tough climbers I recommend two new sectors: Gospinica and Perivoj, both with tufas and long endurance routes (special recommendation is Vukowar 8b+, 50 m long). Multipitch climbers should not miss Ilinac wall and especially the route Secret of Cetina 6b+ (300 m).
There are also plenty of interesting smaller crags like Zadvarje, Mimice or Vrulja, where you can find the hardest Croatian route Dugi rat 9a+ and some other hard projects that still wait to be climbed. A nice bonus of Vrulja cave is its beautiful view on the coast.
If you still didn´t get enough tips for multi-pitches, visit Biokovo mountain. It raises from the sea up to 1762 m. Biokovo offers both – bolted and traditional routes with very good rock quality. Focus on Bukovac and Veliki & Mali Borovac walls and namely on the routes Dalmatinski San 6b, 600 m, Lykopolis 6b, 280 m and Forever Young 7b+, 280m. For even more multi-pitches, you can go to Drašnice, here´s also the hardest multipitch Roctrip 8c+.
PAKLENICA
For most of the foreigners, Paklenica is the synonym for climbing in Croatia. It´s the best known area and it doesn´t lack natural beauties. It´s a huge canyon with spectacular walls. No matter what your discipline is, you´ll find it here: boulders, spot climbs, trad climbs, aid climbs and big walls. The style of local sport climbs is mostly slabby with small crimps, but occasional tufa can be found too, if you visit the newer sectors. Majority of the routes is suitable for climbers who don´t look for the high grades, but exceptions exist – one of them is named Il Maratoneta 8b+, a legendary route, perhaps the most famous in the country.
The fame of Paklenica is tightly connected with Anića Kuk – a perfect limestone fortress with over 150 routes, paradise for multi-pitch climbers. Range of grades is wide, so that beginners can feel as welcome as guys who´d like to climb 8a multi-pitches. At the moment, the hardest route in the canyon is Spomin 8c, 350 m. Sea is nearby and that´s also why Paklenica is more and more visited in the summer season.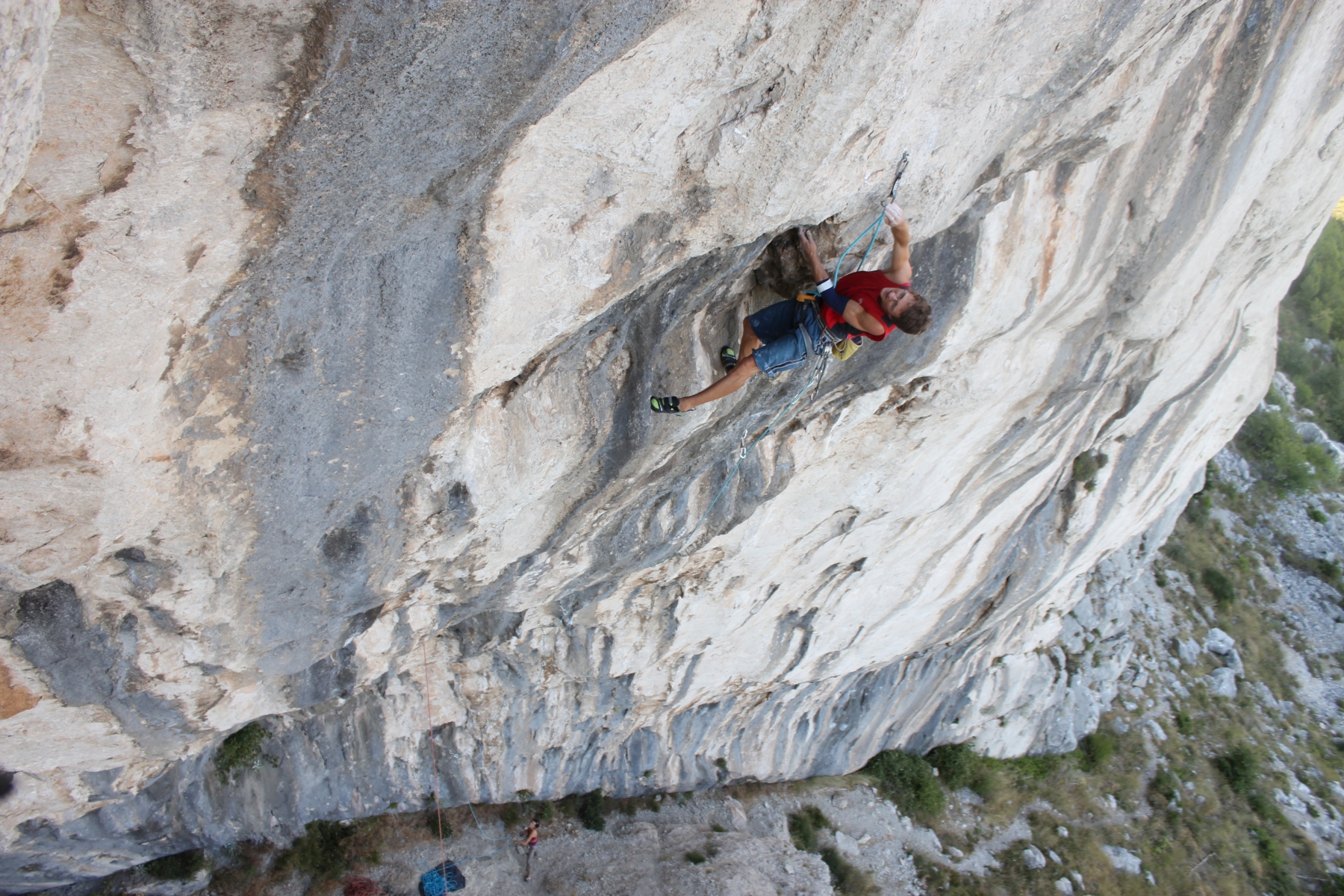 ISLANDS
Dalmatian islands are hiding huge climbing potential. New areas are recently appearing, but way more rocks are still waiting to be discovered and bolted. At the moment, the two most interesting islands are Brač and Hvar.
Brač was known for some time, but big things started happening there in 2014 when a group of French climbers arrived and bolted 23 new impressive lines in a big amphitheatre (70 m high). For me personally this is maybe the most attractive piece of rock in Croatia. Huge, long tufas create an endurance paradise. 14 of the current 25 routes are 8a or harder and they are all 30 – 50 m long. And more amazing lines still wait here. Thanks to the north orientation, climbing is possible here also in Summer.
Hvar is known among the tourist for its mild climate, vineyards and high number of sunny days throughout the year. For climbers it currently has 6 crags, the best known being Šuplja stina (= Cliff base) with 130 routes in all grades, all of them only few meters from the coast. A new area nearby is located above the village, with more new routes up to 80 m high and some pretty spectacular via ferratas.
Village of Velika Stiniva on the north offer another 100 routes of various grades and styles. You can find slabs in the sectors Morning sun and Jugoistok, for overhangs, visit the sector Pod spilju. A number of projects is still waiting to be climbed. Nearby Pokrivenik is a beautiful bay with about 30 routes bolted by me and my friends. More routes are waiting to be done here. If you are heading to the city of Hvar, don´t miss Milna, another recommended sector.
Both islands, Brač and Hvar are accessible by ferry or plane.
Practical tips for your visit
If you decide that your next climbing trip will lead to Croatia, you won´t be disappointed. It´s not the same like Spain, Italy or south of France – climbing is not yet so widely popular here and crags are not as crowded, local climbers are friendly and happy to navigate you to the crag or to your dream project and the nature is beautiful. The charm, of old villages and local cuisine will help to keep your spirit high!
Best time for climbing holiday is between autumn and spring. I personally prefer autumn, but even if you choose to please the non-climbers among your beloved and arrive in summer, you can get enough climbing to be satisfied – you can always find crags in shade and spent your rest days on the beach.
70 m long rope and 15 quickdraws is sufficient in most of the sport climbs. The majority of the routes are well bolted and constant renovation is in process. New areas are appearing constantly also thanks to the support of the local tourist organisations. This is the reason why there are always couple of easy routes for beginners and hobby climbers. But the tough ones aren´t usually very far away!
Croatia is easily accessible either by car or plane. Croatina highway network is dense enough to make your travelling comfortable (but be prepared for possible traffic jams in high touristic season). Islands can be reached by ferries and ships.
The coast is full of campsites, private apartments and small hotels. The same applies for restaurants – here you can always choose between Mediterranean cuisine and the continental one.
To get your bearings and choose the right routes, get the guidebooks Croatia and Paklenica (by Boris Čujić, published by Astroida). The new edition of the Croatia guidebook is scheduled for 2019 and it´s going to include some new crags and practical information.
About Boris Čujić
Boris is the author of many routes as well as of the guidebooks for Croatian crags. He has bolted over 600 sport climbs, widely spread throughout whole Croatia. A big part of income from selling of the guidebooks is going back to Croatian climbing areas as new bolts.